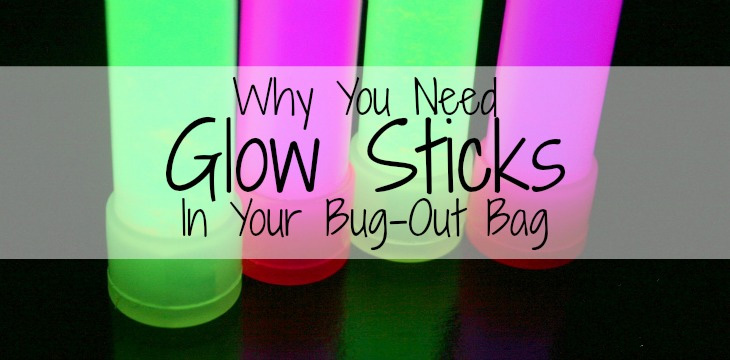 Why You Need Glow Sticks in Your Bug-Out Bag
Having glow sticks in your bug-out bag is kind of a controversial topic amongst prepper message boards. Some say they're unnecessary pieces of junk that just take up space. Others say they're invaluable pieces of equipment you should never be without. I think the anti-glow-stick community may have some rethinking to do. I can give you tons of reasons why you need glow sticks in your bug-out bag!
How Do Glow Sticks Work?
Glow sticks — also called light sticks or chemlights — are transparent plastic tubes that contain isolated chemical solutions that – when combined – are capable of generating light through a chemical reaction called "chemiluminescence". Typical glow sticks use a hydrogen peroxide solution, a phenyl oxalate ester solution, and a fluorescent dye. The activator (the hydrogen peroxide) is stored in a thin glass capsule which can be easily broken by bending the glow stick. Once the glass capsule is broken, the activator is released, thereby mixing the components to initiate the chemiluminescent reaction. Depending on the exact components used, the chemical reaction may only last a few minutes, or it may last many hours. Heating the glow stick will speed up the reaction and cause a more intense glow, but will shorten the glow time. Cold temperatures will reduce the luminescence, but will also extend the glow time.
No batteries are needed for glow sticks, they are waterproof, and they are immune to an electromagnetic pulse (EMP).
Lightsticks are most commonly used around Halloween, Independence Day, at birthday parties, and are usually found at most large outdoor public events. The plastic tube containing the glowing chemicals can be busted or cut open to release the chemicals (but is highly advised against). This clear, oily, colorless liquid is called dibutyl phthalate.
While it might seem like a cool idea to open a glow stick and spread the glow juice around for fun, it is not advisable. Although dibutyl phthalate is low in toxicity, it can still sting and burn eyes, irritate and sting skin and can burn the mouth, throat and mucous membranes if ingested. If the chemicals are ingested, it is recommended to drink water. If they are spilled in the eyes or on the skin, rinse with water. In both cases, contact your local poison control center immediately. Aside from the potential sickness from ingestion, you have to also remember the thin shards of broken glass inside. If you cut yourself with this glass, and then get the chemicals in the cut, you may be in for more trouble than fun.
Using Light Sticks Indoors

Glow sticks to light up a general area well enough to let you see things in your path and can be used in a small room as ambient lighting. One 6-inch long chemlight hung in the middle of a small living room will provide enough light for people to see well enough to walk in that space without tripping over things and other people. In the prepper realm, a lot of people think they are a waste of money and take up valuable space in your bug-out bag. Sure, they're not going to cast enough light for you to illuminate your camp, but they'll light things up enough that you won't trip over your own feet when you're walking.
If you're in a building, you can use glow sticks to mark doors and light switches so they're easily found in the dark. If you've never thought about this, remember it the next time your power goes out at night. Sure, you have candles and flashlights, but you can supplement with glow sticks to make moving around your house that much easier.
Camping with Chemlights
If you're out camping, hang light sticks on your tent lines and other guy wires so you are not running into or tripping over them. Nobody wants to get clothes-lined stumbling back from the latrine in the middle of the night.
Speaking of latrines, you can hang a glow stick from a tree at or near your designated latrine area to make it easier to find in the dark, too. You don't want to kick over a poop bucket or step into a hole where you (or anybody else) "do your business".
If you're looking to do some night fishing, you can use a glow stick to mark the end of your fishing pole so you know when you're getting a bite. For that matter, since they float, you can also use them as a bobber. The light may actually attract fish, too.
Uses for Glow Sticks in Combative SHTF Situations
Maybe you're in more of a true SHTF situation and you need some OpSec (Operational Security) lighting. A flashlight could potentially give away your position a lot faster than a light stick would. Glow sticks will give you enough light to read a map, compass or write directions for later use while still being able to be hidden so you aren't discovered. If you're huddling over your chem light, it is less likely to be seen. You don't even have to expose the entire stick — just enough to cast the amount of light you need, then shove it back into a pocket, your sleeve, the package or whatever you're carrying it in.
You can even find infrared (IR) glow sticks (if you just happen to be using night vision technology) that cannot be seen in the dark by the naked eye. Use these to mark your camp, a supply cache, an enemy position, or anything else so that you can see it with a good set of IR binoculars, but others can't unless they're using IR technology, too.
If you've decided it's best to move at night, you can attach chemlights to the back of your tactical vest or your bug-out bag using small carabiners so the person behind you can see you, keeping your group together while traveling at greater distances between people. It is best not to be marching in too tight of a formation.
However, if you're being followed, a glow stick on your bug-out bag isn't the best idea. Instead, tie them to trees with a little 550 cord to mark a false path so your followers will be thrown off. You could even set snares and traps along that path to catch them, injure them or worse. At any rate, you'll potentially be leading OpFor (Opposing Forces) in the wrong direction, thus allowing you to evade capture.
You could even use a light stick as a potential diversion. Open the end of the package, but leave the glow stick inside the package. Tie some paracord or fishing line to the closed end of the package, and tie a piece of food to the other end of the string. Then, attach the glow stick to a tree, and leave the food dangling near the ground with the open end of the package facing up. Activate the light and bug-out. In theory, an animal will eventually come around to take the bait which will pull the string, removing the package from the light for your tracker to see — but by now, you are already long gone!
Glow sticks also work well for perimeter security. Just as with the trick above, open one end of the package, leaving the glow stick inside. Be sure not to open the end too much — not enough for the package to fall off the light under the weight of the dangling cordage you'll tie on it, but enough that it can be pulled off with a little force. Tie a long length of cordage around the other end of the package, activate the glow stick, and secure the glow stick to a tree 15 to 20 feet off the ground so it is easily seen from your LP/OP (Listening Post / Observation Post). Create a tripwire with the dangling string so that when the line is tripped, the string pulls the package off of the glow stick. If you do it just right, your OpFor may never know they've set off your alert, and you'll have the initiative to do what you need to do, whether it be bug-out or lay in wait to capture them.
Survival Uses for Light Sticks
If this is less of a combative SHTF situation and more along the lines of a survival one, attach your glow stick to some 550 cord and swing it around in a circle so you may be seen easier by first responders trying to find you in the dark.
If you are traveling with children, you can tie a light stick on a necklace for them to play with. It will keep them occupied, and if they start moving around, you can still keep track of them so they don't get lost.
…and let's face it — without glow sticks, you won't have anything to rave with when SHTF!