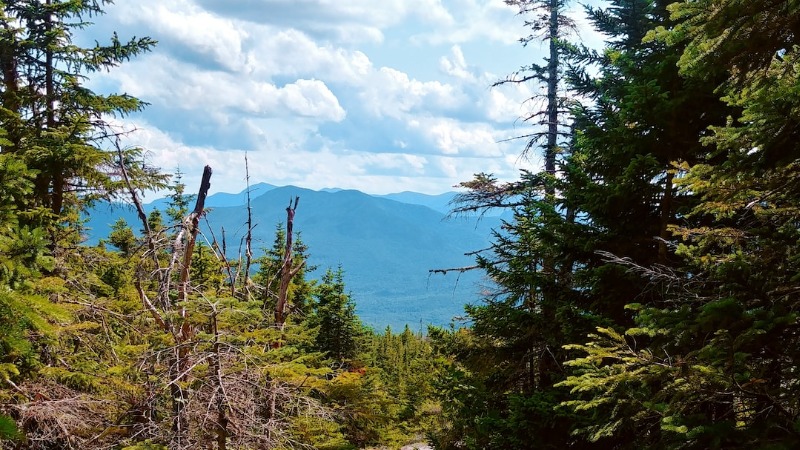 Northeast US Road Trip: New Hampshire's White Mountains
White Mountains & Lake Winnipesaukee
Back in the USA from our brief foray into Canada, we headed into central New Hampshire and the White Mountains region. The landscape grew from rolling forested hills to higher rocky mountains as we drove further south. The White Mountains National Forest is pretty big – it covers a substantial swath of north-central New Hampshire. Read on to follow our journey through the forests of NH!
Franconia Notch State Park
We came to Franconia Notch State Park on the western side of the White Mountains, which straddles the I-93. The Franconia Notch is an old glacial valley through which you drive on the highway, and the steep valley slopes on both sides of the road are pretty spectacular. All along the highway for about 5 miles are pull offs with hikes and campsites. We stayed at Lafayette Place Campground for the night, a nice wooded site next to a stream. It was a rather eventful night, with us being terrified of bears (we both swear we heard large animals roaming the forest around our tent – there were lots of snapping twigs and crunching footsteps on the gravel of our tent site – or were we just imagining it?), and in the middle of the night the heavens opened and the most intense thunderstorm we have ever experienced in a tent occurred… and our little $40 Wal-Mart tent leaked rather badly! Nevertheless, we survived!
The Flume
Many people come to Franconia Notch to see The Flume, which is a river gorge only 12 feet wide in some places, but the sides are up to 90 feet high. It looked impressive! We were keen to check it out, but didn't realise that there was a $15 per person charge to see it until we got there. How ridiculous! And it was only an hour-long walk too. It seems rather unreasonable to charge people that much to do a walk, so needless to say we didn't do it. We did some of the free walks instead! There were lots of pretty streams and waterfalls and we weren't disappointed at all.
Lincoln
The following day we drove south to Lincoln, which is at the western end of the Kancamagus Highway – a great drive winding through the White Mountain National Forest. There is no development along the highway save for campgrounds, which is great. In Lincoln we drooled over the cheap deals on skis and snowboards – we wished we could buy some but taking them to Canada via Mexico would be a little challenging!
Kancamagus Highway
The Kancamagus Highway (or the 'Kanc' as locals call it) was spectacular. It was nice being off the Interstate and on a smaller two-lane road, with the forest pressing in on both sides and snippets of mountain views here and there. The highway itself is only 32 miles long, and as we were camping for the night towards the eastern end of the highway, we had all day to make it there. We stopped at all the viewpoints, rock-hopped across streams, looked for moose at Lily Pond (none were seen unfortunately), and practised our waterfall photography at Sabbaday Falls. It was a lovely drive and we were sad it was only 32 miles long!
Camping
We camped at Covered Bridge Campground, which has a cool entrance way under, guess what, a covered bridge! These are famous in New Hampshire, and are really pretty. We were kept awake during the night by scary forest noises – again, we swear there was a bear or something large near our tent…
From the eastern edge of the White Mountains National Forest, it was a short drive to Portland, Maine – the next stop on our journey.