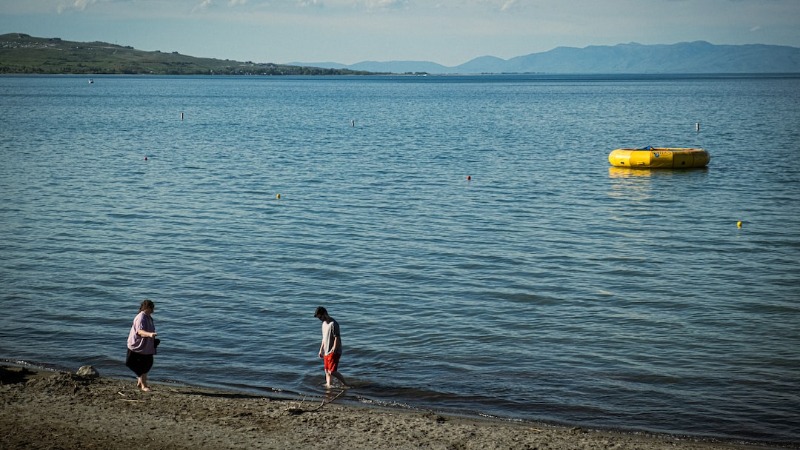 Things to do in Bear Lake, Utah
Caribbean of the Rockies   – Bear Lake, Utah
If you are looking for an incredible destination for your next family vacation, look no further than the pristine aquamarine waters of Bear Lake, Utah. This mountain paradise nestled in the heart of the Rocky Mountains is often referred to as the Caribbean of the Rockies. Don't be misled by its nickname, as the moniker was given due to its beautiful turquoise water and NOT for the warmth found within them. However, if visiting in the summer months during their peak season, you will find the cool waters a refreshing reprieve to the sun's intense rays. Here are a few of our favorite Bear Lake experiences to help you plan yours.
The Beach
Hands down the most popular thing to do at Bear Lake is the beach or water itself. The twenty-two-mile-long lake with its popular sandy shores makes this a no brainer. You will see a variety of activities across the lake from paddle boarding and kayaking to wakeboarding and hydro-flying. If you want to spend a day on the lake but don't have your own watercraft, rent some fun from any of the five locations Bear Lake Fun has around the lake (although with different names). You can even rent a large water trampoline for a jumping good time. They tend to have a monopoly on water sports in Bear Lake, so you won't find a cheaper deal, but their prices are comparable to other lake rentals we've used across the country.
Local Tip: The best time to play at the lake if you want the summer trifecta of less people, calmer water, and hot sun, is at 3:30pm. Everyone who rushed to the beach to get there early has gone home and it makes for a pleasant time.
Hiking Bear Lake
A treasure trove of hiking trails, caves, and smaller (colder) lakes can be found all around the mountains of Bear Lake. Here are a few recommendations:
Limber Pine Trail – A great family friendly hike (perfect for little legs) located at the top of Logan Canyon. It is approximately 1.5 miles round trip and offers spectacular views of both the valley and the lake, and there are lots of fantastic climbing trees as a bonus.
Bloomington Lake – If you are looking for another family friendly hike with slightly more umph, then this is the trail for you. Located on the Idaho side of the lake, near Paris, this 1.4 mile round trip hike isn't the local secret it used to be. With a lake at the end of the trail (not to be confused with the first unimpressive body of water you come to), this moderately hiked paradise is worth the time it takes to get there. Pack a lunch to eat among the rocks, and watch locals and visitors alike drop into the freezing glacier run off as they swing from an old rope swing or jump from the surrounding cliffs.
Minnetonka Caves – This half mile guided hike through stalagmites and stalactites is worth your time if it's something you've never done. A lighted path takes you down a winding path and 444 stairs (With the same 444 steps back up. There are landings and paths in between, so there is plenty of time to catch your breath along the way). At one point in your journey your guide will gather everyone together and turn off the lights to show you how dark it really is. The cave is approximately 40 degrees Fahrenheit all year round so make sure to wear a warm jacket and gloves.
NOTE: You cannot wear any clothing or gear inside the cave that has EVER been worn in another cave (that includes equipment as well. ie cameras). The state of Idaho is working hard to keep a fungus called White Nose Syndrome out of the state. It is deadly to bats and highly contagious. Since a few species of bats can be found in this cave, it is imperative to keep this ecosystem healthy.
Paris Ice Caves – Still somewhat of a local secret, the caves known for the ice formations that never melt are a fun place to hike into. These ice caves are located approximately 20 minutes north of Garden City, Utah in Paris, Idaho. The optimal time to visit these caves are in late summer or early fall when they have had a chance to dry out a bit.
Entertainment at Bear lake
The only real entertainment worth mentioning in Bear Lake is the The Pickleville Playhouse where small town theater lives on in a big way. They have shows every night and weekend (excluding Sundays) during the summer at 4:30 pm and 8:00 pm. You can also grab a delicious dinner at the playhouse for an extra $15 for adults and $9 for kids under eleven. They also offer a smaller chicken tenders and fries kids meal for the pickier eater. You can view their menu here.
There is an old movie theater and bowling alley in Montpelier, Idaho, which is the largest town in the Bear Lake Valley. They also have a decent grocery store if you are staying in a place with a kitchen and want to stock up on some groceries.
Bear Lake Accommodations
Bear Lake doesn't have any resort hotels. If you search hotels.com you will be lucky if much comes up. You can find some rentals on VRBO or Airbnb but Bear Lake Cabin Rental or Bear Lake Condo Rentals, both local companies, can really take care of your needs. From the sleeping needs of 1 to 50, they have you covered.
Glamping, or glamorous camping, is an experience that speaks to my heart and Conestoga Ranch is a high-quality establishment that offers just that.  Get the feel of camping, in one of their luxury tents or Conestoga wagons without feeling like you're actually camping. You can check out their different tent options here. Don't wait to book, however, as they usually sell out a year in advance.
Tent or RV camping is another viable option when staying at Bear Lake and the KOA campground in Garden City is in high demand. With amenities like a pool, park, mini golf, and C-store, this place is perfect for some family fun. It books up fast though so make sure to call in advance.
Restaurants
Like any small town, there is a smattering of burger joints serving up fries and a coke, dotted along the main drag of Garden City. All of them are good, and they each serve a similar version of the legendary Bear Lake raspberry shake. If raspberries aren't your thing, don't worry, you can try one of the other thirty flavors they have available. Be prepared to relax and wait a few minutes for your food to arrive, however, because small towns often come with a slow pace.
Bear Lake only has one drive thru, so if you are looking for something quick, you'll want to hit up Zipz before darting off to your next adventure. If a sit-down dinner in a family friendly environment is more your style, then here are a few options we would recommend.
Winter in Bear Lake
With mountains surrounding this oasis valley, you can guarantee that winter here is its own kind of fun. Beaver Mountain Ski Resort is a family owned resort that brings a home town feel to their variety of runs and trails. Not as big as your fancier resorts in Salt Lake or Park City, but they do a good job of holding their own in terms of ski-ability. Their prices are cheaper, but the experience is not. Hunkering down in a cabin after a long day on the slopes with a roaring fire warming your wool encased toes is the perfect winter holiday.
If you are looking for a fun filled day on the sledding slopes, then what locals refer to as "the sinks" is your hot spot. Known to be one of the coldest places in the nation, this perfect sledding hill brings families from miles around. Just make sure to bring extra layers and a thermos of coco, because. . . did I mention it's cold?
The Bear Lake area is a snowmobiler's paradise and you can see these motor beast's tracks all over the white wonderland. With plenty of groomed trails to follow as well as backcountry riding, there is something for every skill level. You can find rentals at two different Bear Lake locations Beaver Creek Lodge and Bear Lake Funtime.
Snowshoeing and cross-country skiing are both popular winter activities in this area. If you are looking for action to keep your heart pumping while exploring the serenity of the forested mountains, this is the thing for you. It can be a tiring, time consuming, trek, however, so if you are strapping in little feet to accompany you, we recommend not wandering too far. You can rent cross country skis, snowshoes and even sleds in downtown Garden City at Pugstones Sporting.
And there you have it. A very compelling list to make Bear Lake your next family adventure. We hope you like it. Happy Traveling!