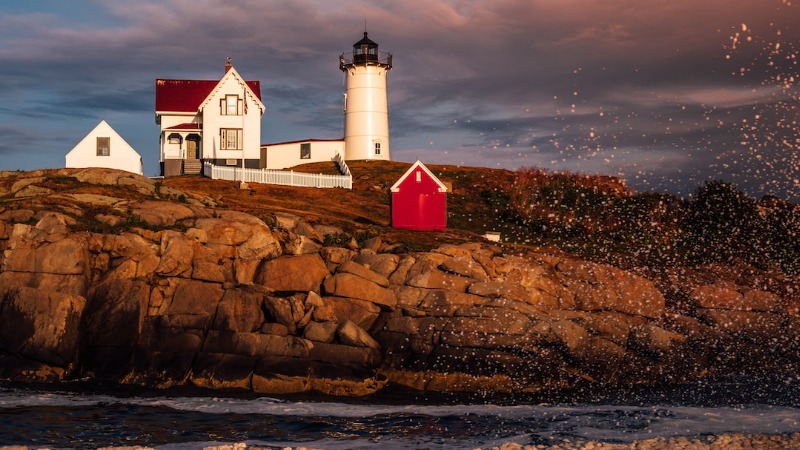 Northeast US Road Trip: From Maine to NYC
Maine to New York City Road Trip
We were up in Maine and had five days to get back to New York City. Where could we go? The great thing about camping in the northeast is that there are literally hundreds of campsites to choose from, but that makes it even harder to decide where to go! In the end we decided to head due west of Portland to the Lakes Region of New Hampshire, and we camped for the night near a small lake. We had an altercation with wasps on the beach – they were after our beers – they chased us off the beach onto a floating pontoon!
Northampton
Then it was into Massachusetts to the town of Northampton. We had a delicious lunch at the Northampton Brewing Co. and wandered around the quirky town centre. The campsite for the night, about 20 minutes out of town, was in an old apple orchard – finally we had a site with some sunlight! All of the campgrounds that we've come across so far are in forested areas, so all the sites are under big trees and don't get much sun. It makes camping rather a cold affair in the late summer/early autumn!
Catskill Mountains
We drove to the Catskill Mountains in New York next, which is a stunning state park. In the foothills of the Catskills is the town of Woodstock, near to where the famous Woodstock Festival was held in 1969. Woodstock was a cute little town surrounded by forest, with lots of arty shops and bookstores alongside the ubiquitous tie dyed shirts and old band posters.
Sunset Rock
Our campsite for the night was in the heart of the state park, at North-South Lake Campground. We headed out for a short 1-mile walk to a viewpoint called Sunset Rock, but we missed the turn for the viewpoint and kept walking – we probably did another 1.5 miles by the time we turned around and went back! Whoops… but the views were worth it – we were walking along the edge of the escarpment, which has steep dropoffs and consequently amazing views over the Hudson Valley. Sunset Rock (when we finally got there) had a great view back over the lake next to the campground and surrounding forest. That night we cooked pizza over the campfire – delish!
Art Galleries
The following day we headed south and stopped in at Dia:Beacon, a modern art gallery that my  mom had recommended visiting. The art was interesting and the building that housed the gallery was pretty neat too. Next we headed to Storm King Art Center, a sculpture park near the Hudson River. It was cool to walk amongst huge steel sculptures for a couple of hours. Finally, after indulging in a bit of retail therapy at Woodbury Common Outlet Mall (which was just ridiculous with heaps of tourists trundling around empty suitcases to fill with shopping!), we headed back to Scarsdale to drop off our little rental car. It had done us well over the past two weeks! Admittedly the engine was sounding a bit unhealthy so we were glad to give it back.
What a great road trip!
We covered a lot of ground and discovered for ourselves a slice of America (and Canada) that we absolutely loved. It was so good getting into the Great Outdoors and chilling out for a couple of weeks.
Road trip stats:
Miles driven: 2350 (that's 3760 km!)
States visited: Five, plus Quebec province in Canada
Campfires lit: seven
Lobsters eaten: 0.5
Bears seen: zero
Bears heard: possibly three, but probably zero
Nights kept awake due to fear of bears: three
Thunderstorms survived in leaking tent: two
Local craft beer brands sampled: fifteen
We made our way back into NYC on the train, and headed to a friends' apartment where we would be staying for the next few days.
NYC was as great as always. Over the following two days we covered a lot of ground:
Brunch with Ross and Aude from NZ and a craft market in Williamsburg
The Highline and Chelsea Market (for the fourth time!)
Brooklyn Bridge (it was vastly different walking with thousands of people in the sun compared to last time we did it, in March!)
Smorgasburg food market
Times Square at night
The Guggenheim Museum (a bit underwhelming as most of it was shut!)
Coffee at Stumptown in Midtown (the best coffee we've found in NYC)
Union Square