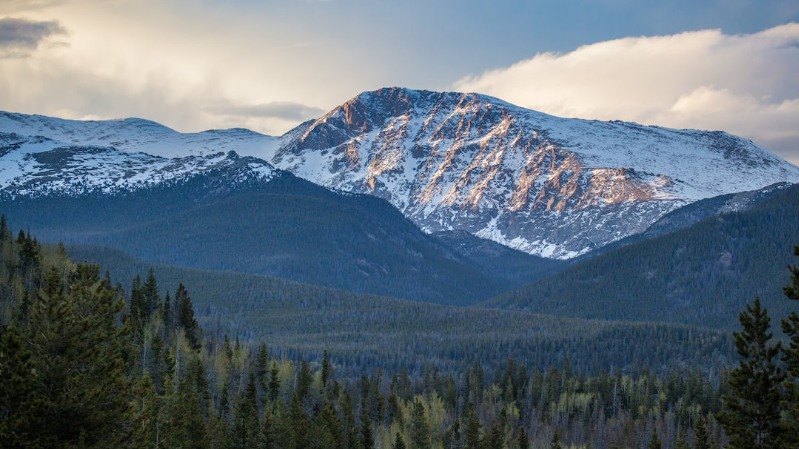 Wyoming Snowy Range Mountains
Snowy Range is Wyoming's Best Kept Secret
When my family took a camping vacation to Wyoming in June of this year, we discovered the Snowy Range Mountains—the best Wyoming mountain range you've never heard of!
We've been to the Tetons, the Beartooth Mountains, Yellowstone, and past the Wind Rivers. Earlier in our trip we camped in the Bighorns because we had been hearing about them for years.
But we wouldn't have known about the Snowy Range except by word-of-mouth from friends who had been there last summer. They knew about them because of the recommendation by mutual friends in Laramie. The locals.
The Wyoming Snowy Range Mountains are known for their majestic beauty and provide a captivating view for all who visit. When standing beneath a sky full of stars, or surrounded by towering snow-capped peaks, it's easy to get lost in the moment and appreciate nature in its purest form. Yet, despite their breathtaking appearance, there is a deeper meaning to these mountains – one that goes far beyond stunning visuals.
From the unique wildlife that inhabit its slopes, to the complex cultural history of the surrounding area, each layer of the Snowy Range Mountains reveals something new about the world around us. Whether we're exploring the terrain on foot or gazing at the snow-laden peaks from afar, these mountains can remind us of our place in nature and inspire us to find our own strength within.
So we decided to check them out, and are we ever glad we did!
What we love about the Snowies
THEY'RE ACCESSIBLE—The Snowies are a relatively small mountain range, part of Medicine Bow National Forest. Just 30 miles west of Laramie, 3 hours north of Denver. Driving scenic Highway 130 brings you through the range right in the mountains. You can see them well without ever leaving your car—but I definitely recommend you leave your car!
A GREAT RANGER STATION—Just past the little town of Centennial, heading west into the Snowies is a Ranger Station with a little gift shop. The two ladies we encountered there were super friendly and helpful, and even stayed open late on our way back out so we could buy our sweatshirts. A great variety of gifts, apparel and books. We also got a detailed hiking map there.
AN EASY DAY TRIP—We didn't make it all the way through the Range on our day trip last June, but only because we stopped twice to hike. The second hike took us 3 hours, so we opted to head back to our campground instead of finishing the drive. But you could easily drive through and back in a day.
THEY'RE SO CLOSE!—I guess this goes with being accessible, but it was glorious being right next to these 12,000-foot mountains. Again, you don't have to hike in to get their magnitude. If you never leave the parking lot, you still get great views.
AMAZING HIKING with JAW-DROPPING VIEWS—We had just started on the Lakes Trail when we encountered a couple from Colorado coming back. They told us there were jaw-dropping views the entire way. They weren't kidding! This was the most scenic hike I've ever been on, without exaggerating.
I think it's because, while there are plenty of trees up there, our hike was high enough that it was very open. We could see the mountains all the way out and back. And even though we were on the same trail both ways, the views were different because we were facing a different direction.
NO GRIZZLY BEARS—We all agreed that—after being in the Tetons, Yellowstone and the south end of the Wind Rivers—it was a relief to not have to think about encountering a grizzly bear!
THE COOLEST ROCKS—I think I can say this is the only hike I've done where I kept stopping to take pictures of rocks! The higher we got, the cooler they were. I'm not talking pebbles here, but boulders 3-4 feet across. The photo below is a sampling from around 11,000 feet.
MARMOTS—We had seen a few of these large rodents throughout our Wyoming trip, but this one was the first that didn't scurry away as soon as he saw us. We don't have marmots in Minnesota, so it was fun for us to see this curious guy. (Besides, I have a Marmot rain jacket I love, so to finally see its namesake up close was fun!)
NO CROWDS—There were a handful of people there, but on many sections of our hike we didn't see anyone else. The parking lots had only 2-3 other cars, if any. Of course it was early in the season for this road—there was still a lot of snow, and the main campground near the pass wasn't even open yet. But after spending 5 days in the Tetons and Yellowstone the lack of crowds was very noticeable, and a nice change.
I highly recommend the Snowy Range Mountains, even if it's just a day trip through. If you can take a few days and camp, that would be even better. The Range is riddled with hiking and backpacking trails that we're anxious to go back and explore.