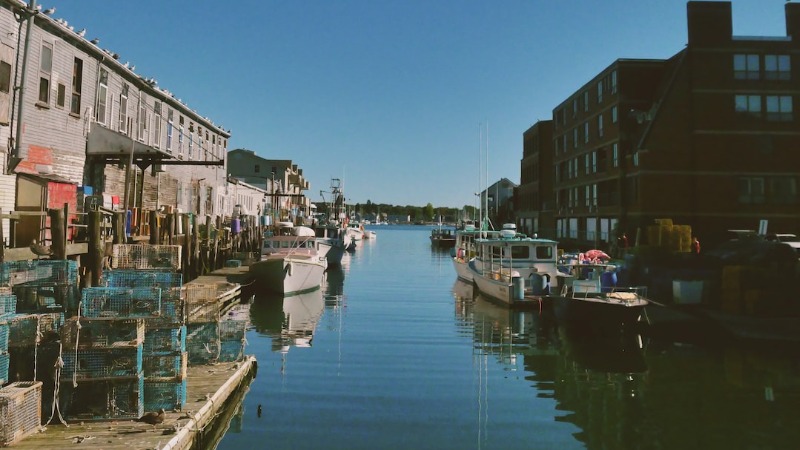 Northeast US Road Trip: Portland & Acadia, Maine
We'd been keen to visit Portland, Maine ever since meeting a Portland native in Koh Tao, Thailand last year. This small city is hailed as a culinary hotspot of northeast USA, and that alongside the scenic beauty of Maine was enough to get us excited! Read on to follow our journey through the lovely state of Maine…
Old Port District
The Old Port district of Portland is really quaint and fun to walk around. We loved the cobbled lanes (we definitely have a thing for cobbled lanes!), gas lamps, and old brick buildings, and it was great being so close to the waterfront to watch the lobster boats come in with their catch. We tried out a few local beers – a tasting flight at Gritty McDuff's Pub (love the name!) and a brewery tour and tasting at Shipyard Brewing Co. Both had some delicious brews!
Central Provisions
There were so many amazing restaurants to choose for dinner, and even Yelp didn't really help us choose, so we did eenie-meenie-miney-mo and picked one called Central Provisions. What a great choice! We sat up at the bar looking over the kitchen, and ordered random small plates – from a lobster toasted sandwich to miso-seasoned beans to crispy swordfish, and finished off with a key lime cheesecake. Oh my goodness it was amazing! And to drink we had a wildberry punch. Punch! It reminded us of our school balls and the terrible weak punch we had there, except this was delicious and not weak at all. Yum!
Fully satisfied, we headed to our campground, Wassamki Springs (the closest campground to Portland, about 15 minutes out of town) for the night. It was a great clean campsite next to a small lake – our site was right on the beach about five steps from the water!
Acadia National Park
The next day we headed along the Maine coast towards Acadia National Park, the only National Park in the northeast. We stopped on the way at Boothbay Harbor, a touristy but cute little village with heaps of cafes and shops.
Finally we arrived at Acadia National Park. What a spectacular place! The park is actually on an island (accessed by a short causeway), and there are little towns around the island that aren't part of the park which makes it a bit interesting – you have a contrast between the complete wilderness of the park and then a little fishing town right next door. There's a great road called the Park Loop that is about 27 miles long and goes through the whole eastern section of the park – and only cars with park tickets can drive on it, which meant it was a lot quieter than the public roads.
Bar Harbor
There are heaps of hikes that you can do around lakes, up small but steep mountains, and there's also a huge network of carriage roads that you can walk, cycle, or horse-ride along. The biggest town of Bar Harbor was very touristy (think tacky jewellery, moose t-shirts, and the slightly hilarious taking-the-piss-of-the-New-England-accent signs saying Bah-Ha-Bah and Lob-stah) but quaint – and there was a good pub with great local beers!
We arrived to beautiful weather in the late afternoon and set up camp, but unfortunately the following day (our only full day in the park) the weather packed in a bit and so we stuck to the road and only did a couple of short walks. It would have been nice to stray a bit further from the car but the weather was rather threatening! We did see some lovely lakes, rocky coasts, and old glacial valleys – the scenery is superb.
Cadillac Mountain
A thunderstorm hit that night and our tent leaked again (yuck), but fortunately the following day was spectacular. We had to drive the 2.5 hours back to Portland so after packing up our sodden tent we headed up Cadillac Mountain to see the view that had been obscured by mist the day before. And what a view it was – you could see for miles up and down the coast, and there were so many inlets and bays, what a spectacle! We felt incredibly lucky that the weather had come right and we could witness such a gorgeous view.
So it was back to Portland for another night, and we wandered around the Old Port again (and got a parking ticket, darn it!). We discovered some excellent coffee at Bard Coffee (go for the iced espresso!), caught up on emails and secured an apartment in Vancouver – exciting times ahead! That night we enjoyed some local produce cooked over the campfire. There's nothing quite like an outdoor meal, that's for sure!