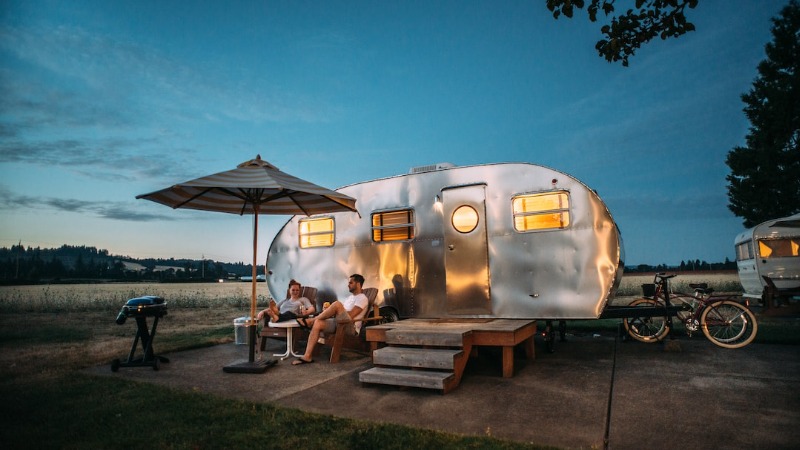 Best Camping Trips : Northeast USA
Do you love road trips? Do you love camping?
Are you planning to travel in the northeast USA and Canada this summer?
Perfect. Read on…
With summer rapidly approaching in the Northern Hemisphere we thought it was perfect timing to get you all excited about the wonderfulness that is camping in the American northeast.
Last September, we spent two weeks road tripping and camping our way around the states of Vermont, New Hampshire, Maine, Massachusetts, and New York and the Canadian province of Quebec – and we loved every minute of it, aside from being petrified of bears.
Yeah, we don't have bears in Austin, and knowing that they were in the forest on the other side of the thin nylon walls of our tent made for more than a couple of sleepness nights. Thank goodness we didn't actually see any…
Anyway. Moving onto the actual subject of this post.
In the northeast, there are about a million campsites (give or take a few). We actually had trouble deciding which ones to stay at – there were that many! Hopefully this post gives you some pointers of interesting places to go this summer.
Vermont
We loved Manchester, a cute little town in southwest Vermont that has lots of eateries and high end outlet stores, and turns into a ski town come winter. We enjoyed the drive up Mt Equinox and the amazing views (although the price was a bit hefty at $20!). We found the nearby Emerald Lake State Park a lovely spot to spend an afternoon.
Campsite
Dorset RV Park, Manchester – $20/night
Review
This RV park was pretty nice, and the section set aside for tents was empty apart from our little tent the first night, and we were joined by some Brits the second night. The amenities were basic but clean enough, but a bit of a walk from the tent area!
If we had more time we would have loved to explore Vermont more – we passed through the city of Burlington (Vermont's biggest city) before we reached the Canadian border. Burlington really appealed to us – we stumbled upon a huge farmers market in the centre of town, visited a bakery with delicious sweets, and tried some beers at Magic Hat Brewery.
Quebec
We approached Canada from Vermont and stayed in an Airbnb homestay in a town called Farnham near Montreal. It was a fantastic introduction to Quebec province and the French Canadians! Click here to get $25 off your first stay with Airbnb.
Montreal was grey and drizzly when we visited, and it didn't really enthral us. The old centre was interesting with its cobbled streets but that was about it. We also had a fantastic pain au chocolat which made up for our otherwise average experience there.
Montreal old town
On the other hand, we LOVED Quebec City. We stayed in a hotel just outside the walls of the old town and spent lots of time wandering around. It's such a beautiful city and we felt like we had stepped into Paris. We loved the cobbled lanes, overflowing planter boxes, little art shops, and getting away from the tourists (there are A LOT).
We also visited Ile d'Orleans, an island in the middle of the St Lawrence River just north of Quebec City. There are lots of wineries, cideries (is that a word?), and maple syrup plantations, and it made for a lovely drive for an afternoon.
Ile d'Orleans vineyard
On our way back to the US, we stayed in a campsite close to Quebec City.
Campsite
Camping Juneau at Chemin du Lac, $28 CAD
Review
We got a lovely campsite right beside the lake, but again it was quite a walk to the amenities (they were nice and clean though).
New Hampshire
From the Canadian border we trundled down the I-91 into New Hampshire and made a beeline for Franconia Notch State Park. This state park straddles the I-93 so it's not exactly peaceful (you can hear trucks barrelling down the highway all night) but there are a number of lovely walks that go to streams and waterfalls that you can pull off to along the ~5 miles of highway through the park.
Campsite
Lafayette Place Campground within Franconia Notch State Park, $25/night
Review
This is one of the places that we swear we heard bears. Eek! There had been bear sightings so I'm not surprised we heard them. Be bear aware! The campsite was lovely (aside from the road noise) and we liked having a roaring fire to keep us warm and the mosquitos away.
Also in the White Mountains State Forest is the famed Kancamagus Highway (or the Kanc, as locals call it). This is a 32 mile drive through the forest and has a number of campsites, hikes, and waterfalls along the way. As the highway is a scenic road you don't get any big trucks and can take your time stopping at gorgeous viewpoints!
Campsite
Covered Bridge Campground on the Kancamagus Highway (near the Conway end), $25/night
Review
Lovely forested campsite with basic but clean amenities (and a fire pit on our site). We think we heard bears here too!
Maine
From New Hampshire we headed to the coast at Portland, ME. Portland quickly stole our hearts and is definitely up there with our favourite cities in America! We loved the old cobbled streets, gas lamps, fishing village vibe, and of course the amazing food and beer that Portland is known for (but don't get it mixed up with the other Portland in Oregon!).
Campsite
Wassamki Springs Campground, $25/night
Review
We loved our big tent site right on the edge of the lake. It's elevated so you get a gorgeous view across the water, and there's a fire pit on each site too (this seems to be a theme in North American campsites, and we loved it!). Being only 15 minutes from downtown Portland was great. The amenities were clean.
Acadia National Park
Wiggling our way up the coast from Portland, we passed through the cute (but touristy) town of Boothbay Harbor before reaching Acadia National Park. We can't believe there's only one national park in the northeast! But it's a stunner – there's lovely lakes, amazing viewpoints, ancient forest, and pretty beaches – Acadia has it all. The town of Bar Harbor, just outside the park, is fun to wander around and there are some good local beers to be had at the bars.
Campsite
Blackwoods Campground within Acadia National Park, $25/night (plus $25 for vehicle entry fee for the national park)
Review
This campground was busy when we were there, but adequate for our needs. It had a basic bathroom with no showers but the sites were private and close to the shore so it was nice to go for a walk in the evenings. And there are no bears in the national park, woohoo!
Massachusetts
On our way back to NYC from Maine, we stopped in the town of Northampton – quite a quirky little place with cute old buildings. We didn't do much there as we had done a ton of driving and just wanted to relax! A side trip could also be taken to Boston and Cape Cod, and back to New York via Rhode Island and Connecticut. We did this trip and loved it!
Campsite
Northampton/Springfield KOA, $27/night
Review
We liked that this campsite was in an old apple orchard, and hence it was much more sunny than the other more forested campsites we had stayed in.
New York
On our way back to New York City from Massachusetts, we headed to the Catskill Mountains which are on the west side of the Hudson River. This is the closest large forest area to NYC, and as such is well equipped with big campsites to handle the crowds. We enjoyed hiking around the escarpment and surveying the stunning views over the Hudson Valley.
Campsite
North/South Lake Campground, $22/night
Review
We were a bit scared of bears at this campsite as there had been sightings, and the bathroom block was a decent walk from our site! Nevertheless, the site was big and the huge fire pit with BBQ grill made it worthwhile.
So there you have it – a fantastic two week (or more if you can!) camping road trip itinerary for America's northeast and Quebec. We've included a map below with some of the sites mentioned in this post – hopefully you find it useful. You can also check out the original posts from our camping road trip here.
Do you have any more recommendations for places to visit in the northeast? Share them in the comments below!