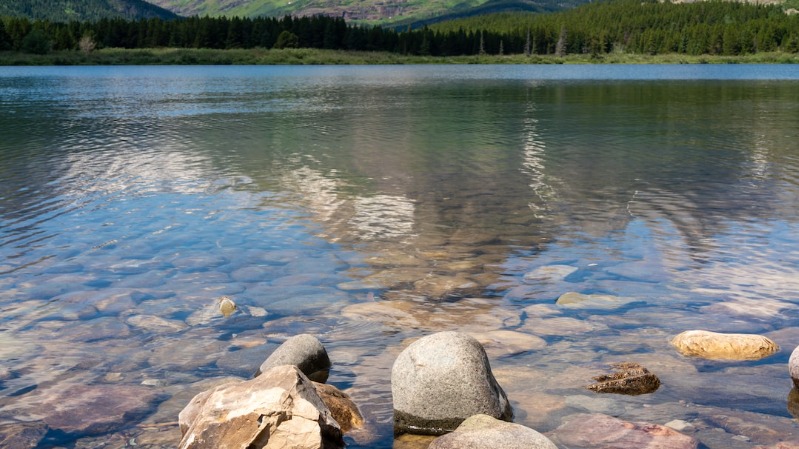 Best Short Hikes in Glacier National Park
Glacier National Park in northwest Montana is famous for its soaring peaks, gorgeous lakes, abundant wildlife and over 700 miles of hiking trails.
There are all kinds of backcountry trails for those looking for challenging all-day or multi-day excursions. But there are also plenty of shorter trails in Glacier for the less ambitious. They still get you up-close and personal with the majesty and beauty of the park.
For those looking to experience the natural beauty of Glacier National Park without committing to a long and challenging hike, there are plenty of options for short hikes that still offer incredible views and experiences. From breathtaking mountain peaks to cascading waterfalls and sparkling lakes, no matter which route you choose, you're sure to find astounding scenery and memories along the way. Read on to discover some of the best short hikes in Glacier National Park and start planning your adventure today!
Glacier National Park is naturally divided between the East side and the West side. The terrain and weather systems are quite different on the two sides.
The East side contains most of the park's most famous attractions, and Renee's personal favorite hikes.
A couple important notes before we dig in:
Glacier is prime grizzly habitat. Follow all the precautions for hiking in bear territory, including having bear spray out and available all the time. (For more read: Bear Safety)
Be sure to stay hydrated especially if you're not used to higher altitudes. Keep water with you at all times. A personal water filter bottle is ideal as you can fill it up at the water sources you find along the way.
Let's get started…
The Many Glacier Area
The Many Glacier area is the most popular section of the park. Stunning scenery and several favorite hikes make this also very crowded, especially during the busy summer season.
But don't let that stop you! Here are Renee's top hike suggestions for this area:
Redrock Falls Trail
This 4.2-mile roundtrip hike is easy—with just 285-foot elevation gain. It's also gorgeous! You get alpine lakes, forest, mountain views and cascading Redrock Falls.
Give yourself some time to explore the several spur trails leading to lake shores, different views of the falls and open views of the surrounding peaks.
When I first arrived at Redrock Falls, I was taken aback by its sheer splendor. The force of the cascades that cascaded down the side of the mountain was mesmerizing, and I felt in awe of the natural beauty before me.
I soon realized there were several trails branching off from the main one, leading to various vantage points with stunning views of both the lower and upper falls. Making the relatively easy climb was worth it for me, as I was able to capture some truly breathtaking photographs that I will never forget.
Redrock Falls is truly a sight to behold, and I would highly recommend making the journey here if you're ever in Glacier National Park. It is an experience like no other.
Redrock Falls is an ideal hiking spot for families. With its short and comfortable trail, you get to experience the full beauty that the park has to offer without having to exert too much effort in the process. But if you're feeling adventurous, extending your journey further up the valley towards Bullhead Lake could be an enriching experience. It would add just a few more miles to your hike, not to mention only a few feet of elevation gain. Nevertheless, this additional 3-mile hike will surely grant you additional scenes of breathtaking magnificence!
Iceberg Lake Trail
We can't call the hike to Iceberg Lake short or easy, but it's such a good one we wanted to include it!
If you're up for a challenge, this highly recommended hike will give you that. And you'll be rewarded with gorgeous views for miles of the Many Glacier Valley and simply beautiful Iceberg Lake.
The hike to Iceberg Lake in Glacier National Park starts at the Swiftcurrent Motor Inn. Once you've found a place to park – which can be tricky due to the area's popularity – make sure to take the short connector trail that begins just beyond the Iceberg Lake Trailhead. Though it's only a quarter-of-a-mile, this path has quite a bit of elevation gain: almost 200 feet! The Ptarmigan Trail beyond is much more gentle, however, which allows you to enjoy the beauty of the area without worrying about too strenuous of a climb.
This hike is 9.7 miles roundtrip (a little more if you're not one of the first to find parking in the tiny lot at the trailhead) with an elevation gain of 1,274 feet. Be in shape, bring plenty of food and water, and enjoy!
Two Medicine Lake area
Nestled in the southeast corner of Glacier National Park lies Two Medicine Valley, a place of natural beauty and serenity that invites visitors to explore and appreciate the wonders of our world. Here, awe inspiring views of crystal-clear lakes and steep ravines, powerful waterfalls and rushing rapids, all framed against dramatic backdrops of mountains and forests, paint a picture of a landscape that is truly breathtaking.
Two Medicine not only offers its visitors a variety of unique activities such as boat tours, wildlife watching, and hikes, but also provides picnic areas, campgrounds, a gift shop and camp store for those who wish to stay for longer. Truly, Two Medicine Valley is an unforgettable experience for anyone who visits!
Aster Park Overlook
The Two Medicine Lake area of Glacier National Park is full of magnificent day hikes, but one of the most rewarding choices is the trek up to Aster Park Overlook with a bonus waterfall thrown in. Starting from the South Shore Trailhead behind the boat kiosk at Two Medicine Lake, the journey begins on the South Shore Trail. Just 1 mile into the hike, hikers are rewarded with beautiful views of Paradise Point (though it's not much different than the view from the dock, there is a lovely beach perfect for swimming and relaxing). After another 0.2 miles, the trail leads to a gorgeous waterfall. Don't forget to take the short spur from the main trail to the top of this majestic cascade!
The remainder of the hike is an uphill climb, about a mile in total, to reach the grand finale – the overlook. Here you can marvel at jaw-dropping panoramic views of Two Medicine Lake and Rising Wolf Mountain, as well as gaze up the Aster Creek drainage toward Mount Ellsworth and Appistoki Peak. This is surely one of Glacier National Park's best kept secrets.
The Aster Park Overlook trail is 4 miles with several scenic lake and mountain views and a short spur trail to Aster Falls. It has a 780-foot elevation gain, so is moderately difficult.
You'll have a wonderful panoramic view of the mountains and Two Medicine Lake from the overlook.
Going-to-the-Sun Road & Logan Pass Area
This is probably the most famous part of Glacier. The Park Service says the parking lot at Logan Pass is often full between 8:30 and 4:00. So consider a sunrise or sunset excursion, or consider taking one of the free shuttles.
Starting on the East side at the St. Mary Visitor Center, Going-to-the-Sun Road traverses the width of the park, offering so many amazing views it's hard to take it all in.
It's 50 miles long, but due to its winding, alpine nature you'll need a good two hours each way—not including stops!
Here are a few hikes to enjoy in this area:
St. Mary Falls & Virginia Falls
This popular and easy hike (again, read: get there early if you want a parking spot!) is great for families. On this 1.7-mile roundtrip trail you'll have super views of the local peaks, will hike through forest and reach the three-tiered falls with its blue-green mountain water.
If you'd like to increase your distance by another couple of miles, continue on to 50-foot Virginia Falls for an even better experience. That still brings your total hike to under 4 miles—very doable for most people.
Be cautious on the wet rocks, which can be really slick. This glacial water will be absolutely freezing if you take an unintentional dip!
Sun Point Nature Trail
Going-to-the-Sun Road is a must for any visitor to Glacier National Park. With its breathtaking scenery and numerous turnouts and overlooks dotting the way, there's always something new to behold. One such stop that should not be missed is Sun Point – an idyllic nature trail and picnic area located halfway up the shore of Lake Mary from the east park entrance.
At Sun Point, one can marvel at a panoramic view of both ends of the lake from one of the most prominent points on the lake. The generous parking lot is often bustling with tour buses, vans or one of the iconic red vintage touring cars ubiquitous to the park. Well-manicured walking trails lead to various vantage points, each offering an opportunity to take in the majestic beauty of the area. There is also a large picnic area situated close to the road – a cozy spot to savor a peaceful meal among nature's grandeur.
Look for the pull-off at Sunrift Gorge to take this 1.6-mile roundtrip hike. You'll have a magnificent view of Wild Goose Island and St. Mary Lake with the surrounding mountains.
Short and sweet!
If there's a parking spot available at the Visitor Center at Logan Pass, definitely stop! Hidden Lake Overlook trailhead is right there. The trail takes you on a boardwalk (to protect the alpine fauna), gaining 540 feet in elevation to an overlook of—what else—Hidden Lake. And, of course, many gorgeous mountains.
The trail winds down from the overlook, losing almost 800 feet in moderate to steep grades before reaching the lake in 1.25 miles. Along this journey, you will be rewarded with breathtaking views of Mount Brown, Stanton Mountain, Bearhat Peak, and Reynolds Mountain. You'll likely see mountain goats and/or sheep up here, especially if you come early in the day.
When you finally arrive at Hidden Lake, bask in the stunning scenery surrounding its shores; take time to admire the breathtaking cliffs rimming the southern side of the basin and gaze up in awe at Bearhat Mountain towering above. Then explore the area further via short spur trails leading to the outlet stream, giving you plenty of opportunities to take a break and relax while admiring your incredible surroundings.
This trail is at an elevation of 7,152 feet. If you notice you're more short of breath than usual, this'll be why. You'll enjoy it more if you're in shape!
Click for more on the Hidden Lake Overlook Trail.
Highline Loop Trail
Beginning at the Logan Pass Visitor Center, the highest point along Going-to-the-Sun Road, the Highline Trail offers a unique opportunity for hikers – a one-way journey of roughly 12 miles that descends in elevation as it travels from one end to the other. This hike is perfect for those seeking a more relaxed, contemplative experience; free of the rigors of constant uphill climbs and descents. But it does require a bit of pre-planning, as doing this route one-way necessitates a roundtrip back to the starting point.
For those with an eye for nature's beauty, this trail provides endless views of wildflowers, glacial valleys, and majestic mountains as far as the eye can see. As you take in these wonders of the natural world, allow yourself to be taken away on a journey of reflection and reinvigoration.
The entire loop is almost 12 miles. But don't let that deter you from hiking at least part of it and coming back. You'll be treated to spectacular views of Glacier's West side all along the way.
Near the beginning you'll arrive at a ledge section you'll have to hike. If you're afraid of heights, it'll be a challenge! But, there's a hand cable for extra stability if you need it, and the trail is 6-8 feet wide, so if you're cautious you'll be fine. If you're like me you'll be hugging the cliff side, but wow—the views!
West Glacier
West Glacier is lower in elevation than the east side. Summer's are hotter, and often rainier. Renee's top suggestion on this side of Glacier is…
Avalanche Lake Trail
The hike to Avalanche Lake offers you the magnificent mountain views you've come to expect, a crystal-clear alpine lake, lush forest and a river gorge with thundering rapids.
The Avalanche Lake Trail is a peaceful meander through nature's wonders. Starting with the Trail of the Cedars, hikers will be treated to lush and green landscapes that stretch out to meet them. From there, make your way up through the forest for two miles, winding along Avalanche Creek gorge in all its glory.
As you move higher and higher, take some time to appreciate the sights and sounds around you, from birdsongs to rustling leaves. Eventually, you will reach Avalanche Lake, rimmed with steep cliffs on three sides and spilling over with cascading waterfalls. Here, take a moment to soak it all in – the serenity of the lake and its surroundings, letting it wash away any stress or worries.
If you're feeling adventurous, you can continue along for another 0.7 miles around to the other side of the lake. Whether the goal is to relax or explore, Avalanche Lake Trail is sure to provide something special for everyone who steps onto this path.
This 4.5-mile roundtrip trail has a 730-foot elevation gain, making it moderately difficult, but still very doable for families. When you reach the lake, take time to soak in the beauty at the large beach area before heading back.
Conclusion
For many, the best short hikes in Glacier National Park provide the perfect opportunity to experience the beauty and wonder of this special place. With trails ranging from easy strolls to more challenging adventures, visitors have plenty of options to explore and discover the scenic views and diverse wildlife that make Glacier National Park such a beloved destination. So grab your hiking boots, pack your picnic lunch, and hit the trail – you're sure to have an unforgettable time!
More Glacier hiking resources