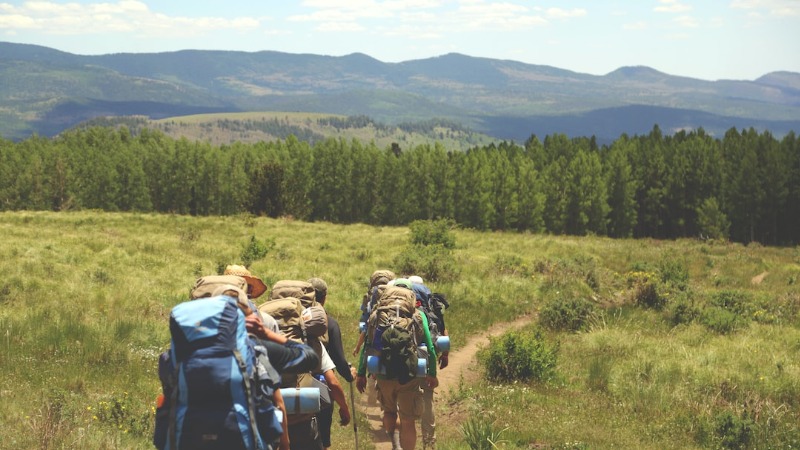 Ultralight Backpacking and Hiking
Ultralight Backpacking Gear – How to Hike Light and Fast
Going "ultralight", or at least shedding pounds from your backpack, is not as tough as it may sound. Initially, it just takes a commitment to spending money on newer, lighter gear and depending on how light you want to go, making a few sacrifices. Once you have replaced a few basic items, you will have to convince yourself that your insulated mug is not necessary, that you don't really need all those stuff bags, that your Thermarest chair can be left behind. And finally, you arrive at the point where you are taking off cordlocks, cutting off your toothbrush and spoon handles, removing zipper pulls, and cutting unused strap ends from your pack.
Ultralight backpacking means different things to different people. To some, ultralight backpacking means 8 pounds on the back, total- some refer to this as minimalist backpacking rather than ultralight. To others, it may mean lightening the backpack to 20 pounds. I find myself somewhere in between these two philosophies.
Packing Tip – If you want to obsess about pack weight as I do, take your gear to your local post office. They will have a digital scale in their lobby that you can use get exact weights of your gear and food.
The starting point for lightening your pack is the backpack itself. By purchasing an ultralight backpack many people can instantly shed 2, 3 even 4 pounds from their load. Many older packs weigh between 4 and 6 pounds, and are around 5000- 7000 cubic inches- far too heavy and big unless your are climbing Mt. Everest. Even newer packs, while lighter, still weigh around 3 pounds or more. If you truly want a lightweight pack you don't have to look far: look at the Osprey, Marmot, Granite Gear, or Exped to start.
From here the changes in gear start shedding ounces rather than pounds, but it all adds up. By going to the MSR Miox pen and leaving your old pump behind you may drop close to a pound. By making a cat stove and carrying denatured alcohol for it, and ditching your Firefly and fuel bottle, you shed close to another pound.
At this point you will need to look at your gear piece by piece and first ask if you really need that item. If you decide yes, then it is time to look at the lightweight options that are out there for each piece of gear, for example clothing, cookware (which really should come down to just one pot), and survival items.
Ultralight Packing List
With all that said, we present what we refer to as our "Ultralight Packing List". It is our recommendation on what to pack- use it as a starting point as you do your own packing. This list is most applicable to warm and hot weather pack trips- it was created with hot weather desert backpacking and hiking in mind. Note that many of the items are options. You need to decide, based on your experience, research, and the expected conditions exactly what you want to carry. For example, do you need a sleeping bag, or just a liner, do you need a bug shelter, or can you sleep in the open and not worry about bugs?
A note on experience- it is up to you to use and understand your gear before you get yourself into a situation that might be uncomfortable. Ultralight or minimalist backpacking is very different from what most are used to. Be careful when you start leaving equipment behind. FYI, in the summer I tend to carry, not including food or water, just under 10 pounds of gear from this list and have everything I need for many days in the canyons.
For those unfamiliar with ultralight backpacking, there are many ultralight websites out there where you can read endlessly about ideas and experiences and recommendations on going minimal.
Italicized items are worn or carried on body
Bold items are survival / always carry items- these are the pieces of gear that I have with me whether I am out for a week or an hour long walk away from camp or down a trail. The bold items are my 10 Essentials.
Clothing
Pants, or shorts with zip-off legs
For shorts and shirt I wear Ex-Officio clothing. Their Amphi Convertible pant has zip off legs that have not failed yet. It's nice to have the option.
Desert shirt
The ExOfficio Men's Air Strip Lite is the best hot weather shirt I have found. It is another case of getting what you pay for, meaning it is not the cheapest sun shirt out there.
Light polypro shirt & pants
I usually carry either light or ultra-light polypro shirt and pants, depending on current conditions. The poly shirt stays in a 1 quart ziplock and is one of my survival/always carry items.
Light vest
A nice addition to have along for chilly evenings or mornings, although not always necessary. On cold nights it is zipped up and acts as a sleeping bag liner for the feet. A simple, cheap pile vest from REI wieghs less than 8 ounces.
Light pile shirt (optional)
Another option, usually for spring or fall. There are lots of good brands out there.
Rain gear jacket and pants
Golite made ultra-lightweight raingear which I carry. I haven't needed to research newer brands as my old Golite gear is still functional.
Socks (pair per day)
Your choice here. I wear merino wool socks year round. I like that added cushion and the heat doesn't bother me.
Polypro gloves & cap
Again, ultra-lightweight is best. Gloves may or may not get used, cap usually does, even in the desert.
Desert hat
The Columbia Bora Bora Boonie Hat has been my preferred hat for years. It is light, breathable, and dries quickly. But I do wear a military issue desert camo floppy at times.
Bandana
Hiking shoes or boots
I wear Bates M-8 Desert Combat Boots. I like everything about them- the support, breathability, the added "exoskeleton" padding, and especially the "gecko grip" soles. They literally stick to the slickrock. Yes, they are costly, but I am happy to pay the price for proper footwear.
Necessities
Bug juice
Sunglasses
Sunscreen
Watch
Flashlight
The Photon or Princeton Tech microlites are highly recommended. They weigh only ounces and put out huge amounts of light and have long battery and bulb lives.
Headlamp
I carry the Petzl e+LITE as my headlamp. It is super lightweight, works incredibly well, has a long battery life, and the batteries are small so carrying an extra set is easy.
Compass, wrist compass
The compass is a very personal piece of equipment. The leading brands are Silva and Suunto. Both make great products. I carry a Silva Ranger CLQ Compass I also have a Suunto M-9 Wrist Compass strapped to the chest strap of my pack for quick access. The choice of style should be dictated by your level of confidence in navigation, familiarity with your area of operation, and what you plan to do with it, that is, just find north, orienteer, bushwack, or leave it hanging around your neck and never touch it. either way, a lightweight wrist compass that you can attach to you wrist, pack, or beltloop is highly recommended as a backup and survival item and for quick direction finding.
Map and case
I recommend using 7.5 minute series or 1:24,000 maps because of the degree of detail.  My usual map case is a storage grade one gallon ziplock bag. They are cheap and light. If I am hiking on a river I use a small size SealLine HP Map Case with a cord attached that I can tie to my belt.
Lighter
A Bic butane lighter, the smaller version, is what I carry. Make sure the one you take is full.
Lip balm
Fixed blade knife
I recommend fixed blade for safety. CRKT makes a line of inexpensive, lightwieight and very functional blades. But do not rule out the USAF Survival Knife.
Metal match
A survival item- the boy scout keychain model should be tied on to your knife sheath, or anywhere else. You will always have it with you.
Backpack
Another very personal item. Spend all the time you need picking this out, especially when buying an ultralight pack. It is going to feel different than your typical 5000- 7000 cubic inch, 5 pound backpack. I use the Golite Jam 2 or the Golite Pinnacle, depending on how much space I need. Unfortunately once these wear out I will have to find another brand.
Trekking poles
If you haven't tried them yet, you should. They do amazing things for weight distribution and balance. At the end of the day you've had a bit of an arm workout, but your legs and knees and back feel better and you've walked a little further. They also double as tent poles for the poncho or tarp shelters. Leki Makalu Antishock Trekking Poles are my personal favorites.
Ultralight Tip– I have rarely used the webbing loops attached to the trekking pole handles. While trekking down the Escalante River I decided it was time for them to go. I cut the straps off and lightened my load by another few grams! Just as important, the straps were no longer in my way. I should have done it years ago.
Survival kit
The survival kit, and the subject of survival itself, deserves many pages of explanation.  Below are some of the items that you should consider carrying on your body at all times. The other bold face items in black on our list are also recommended. Be warned, again- unless you know how to use the items and understand and have thought out, even practiced for a survival situation, these items might be useless. If you walk yourself through a survival scenario that you might be in, you will have a better idea of what you might want to have. Be prepared, as the Boy Scouts say.
Matches
Should be waterproofed. Or try Rod & Flint Combos – Fire Starter Kits
Parachute cord
A.K.A. paracord or 550 cord- an indespensible survival item. Some say you should carry 50 feet, I carry 30 feet. Make sure you get the genuine article which has smaller strands of cord inside of a sheath. The smaller strands can be removed from the sheath and have countless applications.
Duct tape
Not much needs to be said about this item. I keep a few wraps around a Nalgene water bottle. Be sure to change it out periodically. Alternatively, wrap four or five inches back on itself, flat, continue wrapping and make your own "roll" of tape without the rigid center.
First aid kit
This is your call- as big or small as you think you will need. Check out First Aid for Broken Bones While Camping & Hiking
Iodine tabs
Or other form of purification that is small and portable and that you are likely to keep on your body. Be sure to periodically check the expiration dates on products like this.
2 meals, snacks
Clif bars, Power bars, Cornuts- whatever. If you always have a meal or two in your buttpack or "always carry bag", or at least snacks, it can do tremendous things for your morale in a survival situation.
Sleeping options
Next is the sleeping kit- bag, pad and shelter. First, by replacing your old two and a half or three pound bag with a down bag at less than a pound and a half, you have again shed a considerable amount. Then comes the sleeping pad. The simplest option, as we point out on our Ultralight Packing List, is the Thermarest Prolite series. The extra-small weighs less than a pound. Next you need to ask yourself if you really need a tent. By sleeping on the ground with the stars overhead you instantly drop another 3, 4, maybe 5 pounds from your pack. And there are plenty of options for lightweight tents if you must use one.
Again a very personal area. You know if you are a hot or cold person, if you have a high or low tolerance for that cold desert night you might encounter. By researching where you are going, you should have an idea of average night time temperatures, chance of rain, and bug conditions. Pack accordingly.
Sleeping bag or liner
There are many great down bags these days weighing around one pound. I use a Mountainsmith sleeping bag weighing just over one pound or a Golite 40 degree quilt that weighs less than a pound. Unfortunately Mountainsmith no longer makes bags, and Golite is now defunct. Some of the lightest bags around are made by Mountain Hardware and North Face, to name just a couple of companies to look at.
Bivy sack
A Gortex or equivalent bivy sack is sometimes added to my pack in early spring or late fall. Otherwise, I have an Intergral Designs ultralight bivy that stays in my pack at all other times.
Sleeping pad
Mine is from the ThermaRest ultralight series, the Therm-a-Rest ProLite Extra-small Pad, their lightest at about 8 ounces. Or you could go all the way and cut down a closed cell foam pad to shoulder width to reach from your thighs to your shoulder blades. This option weighs 4 or 5 ounces.
Poncho
As noted above, a silcoth poncho has many applications, including being strung up as a rain shelter. The Integral Designs Sil Poncho- the poncho I carry- cost about 85 dollars when i bought it. Again, I do not think it is available any longer. Another option is the Integral Designs Siltarp Ultralite Tarp, which appears very comparable minus the hole and hood for your head.
Bug protection
Golite had a great selection of ultralight shelters and insect protection. I carry the Shangri-La Nest and Shelter when necessary, each weighing about one pound. I can only hope that Golite's latest incarnation as a company will bring these great shelters back. These shelters do not come with poles, part of keeping them so light. Trekking poles take the place of tent poles. I also commonly string my shelter up under a tree, tying it to branches.
Tyvek ground sheet
Tyvek Housewrap comes in large, expensive rolls from builders supply stores. It is used as a vapor and wind barrier in construction. It is lighweight, waterproof and the alternative to heavy plastic ground sheets. Visit a residential construction site and explain what you are doing and they will probably slice off a piece for you. Bring a six pack of cheap beer as an offering and you are sure to get as much as you need.
Clark Jungle hammock
Sounds like a strange option for the desert, but we do have trees here. The Clark family of Salt Lake City makes an exceptional product. The Jungle hammock has an integral mosquito net and comes with a silcloth rain fly, which you could leave behind if you are so inclined. The hammock then weighs just over a pound including ropes. Its a great hammock if you like sleeping in them. Click here to visit the Clark website.
Miscellaneous Items
This section is up to you. I do recommend at least the TP and toothbrush.
Notebook, pencil
Camera
Toilet paper
(Be sure to pack an extra Ziplock bag or two to carry it out after use.)
toothbrush, powder, floss- Ecodent toothpowder, found at Whole Foods or the like, can be put into a 1/4 or 1/2 ounce nalgene bottle.
Electrolytes
Alacer Electromix comes in pre-measured packets for one quart of water. They can be a great help on a 100 degree July afternoon in the canyons. Again, a Whole Foods item.
Sport Slick or Bodyglide
If you have a tendency for chaffing, either works great. Also can be used on the feet to help stop blistering.
Handiwipes, Personal hygeine item.
Buttpack or daypack
A very lightweight buttpack or homemade silcoth "daypack" is great for dayhikes out of your basecamp. It allows you to bring along plenty of water and those survival essentials.
Cooking
Stove, fuel and acc's.
The alcohol burning, homemade "mini stove" is preferred. Unfortunately the instructions for this stove no longer seem to be available. I have the entire web page saved and will look into the implications of making that available through the Desert Explorer website. In the mean time, visit Zenstoves.net for endless design ideas. Beware that many of the links that are listed are no longer functional, but you should be able to find a design to your liking nonetheless. Here's a DIY Casn Stove.
Water bottle
Standard wide mouth, one quart Nalgene.
MSR Dromlite w/ cap (4L) and drinking tube.
Platypus (2L)
Water purifier
Currently I am using the MSR Miox Water Purifier. It weighs ounces and has kept me safe so far. There is no lighter option that guarantees such safety. Make sure you practice using it at home! How to Choose the Right Hiking Water Filter
Titanium cup
There are a variety of them available these days.The Snowpeak 600 ml model (see above photos) holds the mini stove and its accessories. Mine did not come with a lid (I made it from some lighweight aluminum roof flashing), but they make a 700 ml cup now that does have a lid.
Spoon
A simple plastic spoon from REI is enough. Do you really need a fork or knife?
Soap
Should be biodegradeable, Dr. Bronners for example, carried in a 1/4 or 1/2 ounce Nalgene bottle- take just enough.
Food
Be sure to keep it light. Avoid the obvious- cans, too many Power or Clif bars, raisins, nuts, etc. I carry all dehydrated meals, made at home, in storage grade one quart Ziplocks. Boil and add water and let it sit for 5 to 20 minutes and your meal is ready- without wasting water for washing.