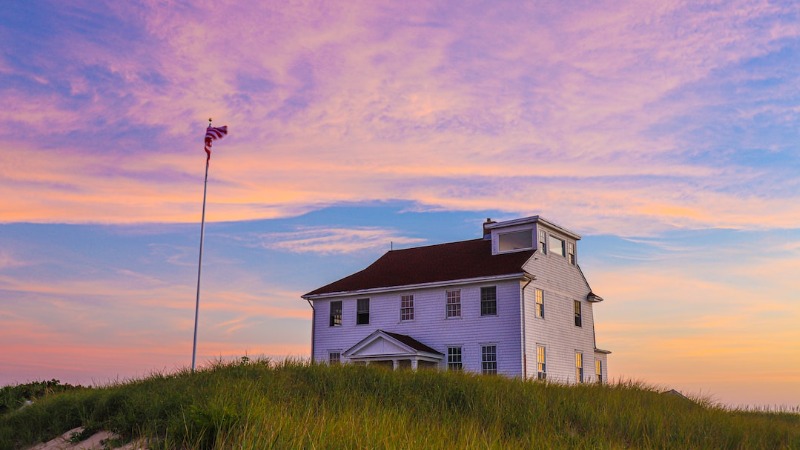 Road Trip: Rhode Island, Cape Cod, and Boston
The past week has been full of little fishing villages, whales, beaches, and sunshine. Rhonda Burgundy took us all around the southern parts of New England, through Rhode Island and Massachusetts.
New London
New London in Connecticut was an appropriate starting point for our journey into New England. We disembarked from the ferry from Long Island there, and headed towards Cape Cod. We travelled through the small state of Rhode Island, and stopped in Newport, home of the America's Cup. What a gorgeous town! There were lots of little old houses and a cute village around the waterfront.
Newport
There's a walk along the cliffs near Newport that goes past some immense mansions – we thought the mansions in the Hamptons were huge, but these just blow them out of the water (and in addition they were built in the late 1800s!). It's pretty cool that you can walk past and look at these homes, because most of the wealth around these parts is hidden behind huge hedges and fences!
Cape Cod
We then crossed the state line into Massachusetts and headed up Cape Cod towards Provincetown. On the way we cycled part of the Cape Cod Rail Trail, which was lots of fun. It was pretty easy – a very flat path and not much bike traffic!
Provincetown
Provincetown, right up the top of the Cape, was a really cute little town. Think tiny colonial weatherboard houses crammed together along narrow winding lanes – some of them were so narrow we couldn't drive down them! We ended up paying for 24 hours of parking and slept in the van on the wharf which was great – right in the middle of town!
Cape Cod National Seashore
The nearby beach is part of the Cape Cod National Seashore, a protected area which runs right down the length of the cape – pretty amazing that such a huge protected area exists in a place that gets so crowded in the summer (no massive beachfront holiday homes here!). We sat on the beach for a while and saw whales feeding offshore! That was pretty amazing.
Boston
The following day we drove up to Boston – a great city. We loved wandering around the historical streets and parks. Boston is so well-groomed and so tidy, with lots of pretty spring flowers and trees everywhere. The North End was cool with little lanes and lots of Italian eateries.
Fenway Park
We'd decided that we needed to embrace American sporting culture, seeing as we have been here for a while now, so we decided to head to a baseball game. What better place to see the national sport than at America's oldest ballpark, Fenway Park! We saw the Boston Red Sox beat the Cincinnati Reds, which was a great experience. We had absolutely no idea what was going on, so we had to google the basic rules of baseball while we were watching the game in order to understand it better! It's great how they get so passionate about their sports teams – it was real entertainment!
Gloucester
The next day we rose early and headed to Gloucester, an old fishing village north of Boston. We'd booked in a whale watching tour with Captain Bill & Sons (and got a two-for-one deal, bonus!) and it left at 8.30am, and it was an hour's drive away from where we were in Boston! Ugh. But we got there right on time and headed out to sea. Fortunately it was a sunny calm day (although freezing on the top deck) because it took around 2 hours to find the whales – we were beginning to worry that we wouldn't see any! But when the captain found them it was well worth it. We watched two humpback whales feeding right beside the boat for about half an hour – it was incredible how they released tiny bubbles to the surface to corral the fish into a ball, then come up underneath with their mouths open and scoop them all up! So amazing. Such beautiful animals – what a privilege to see them.
Marblehead
We headed back down the coast via Marblehead, which was yet another cute little old fishing town with multi-coloured houses. We spent the afternoon in Boston and visited a brewery as well as a rainy Harvard (that's one seriously impressive university), then headed to Providence RI for the night, parking the van outside Brown University to sleep (after mistakenly stumbling into the ghetto!).
What an amazing week – we really enjoyed seeing a different part of the Northeast, New England you are amazing! Can't wait to return.