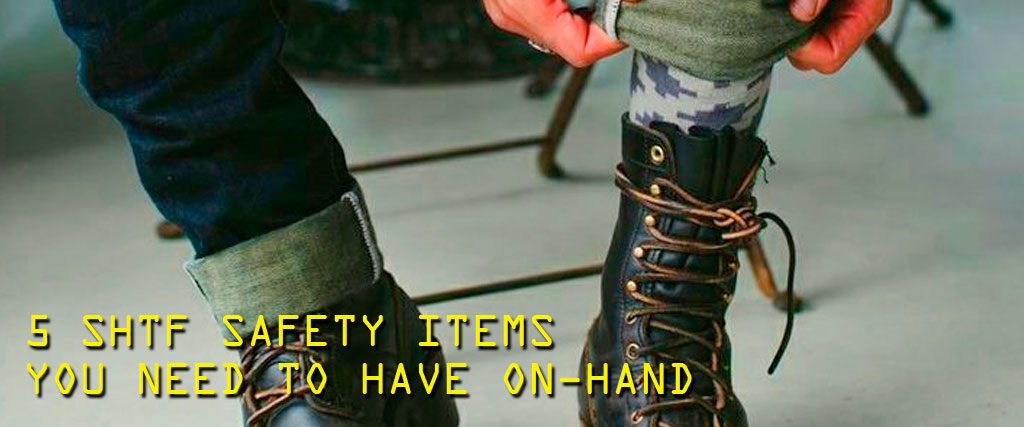 5 SHTF Safety Items You Need
To survive a SHTF scenario, manual labor and the use of tools are going to become requirements. For many, this will equate to an increase in activity and an increased risk of injury.
When forced to depend on physical well-being to survive, every injury is magnified. Small injuries can even become life threatening with little or no medical care available.
Basic medical training and the right supplies can only help you treat injuries after they happen. As such, I believe we should put as much focus as possible on preventing injuries. Consider adding these shtf safety items to your preps to reduce your chance of being injured after a collapse.
1. Cut/Impact Resistant Gloves
A broken hand/finger or even a cut on your hand could be bad news for a number of reasons.  Needless to say, you need to retain full use of your hands in order to ensure your best chance of survival when the shtf.  A good pair of gloves with impact protection is a great investment.
2. Ballistic Safety Glasses
Any injury to your eyes would be absolutely devastating and could easily be the difference between life and death.  Luckily it is pretty easy to avoid an eye injury by wearing some simple protective glasses.
I would recommend a simple pair of shooting glasses with UV protection.  With how cheap they are, it makes sense to have one pair with clear lenses for indoor work and one with tinted lenses for the outdoors.
If you wear prescription glasses, you should consider a pair of "over prescription" safety/shooting glasses.
3. Ear Protection
If you are in a true shtf situation, there's a good chance there might be some gun shots.  Just one gunshot can permanently damage hearing.  In today's world, we have the luxury of modern hearing protection that filters out harmful levels of noise while still allowing you to hear regular conversation.  When it hits the fan you might want to be wearing ear protection regularly.
4. Military Style Boots
A nice sturdy pair of boots is a must.  You want a pair that covers well above the ankles to prevent rolling the ankle and provide cut protection.  I also personally prefer waterproof boots.
5. Bump Cap
A bump cap is a form of head protection that typically looks like a regular ball cap.  While it does not provide the same protection of a hard hat it protects against cuts, bumps and bruises while remaining discreet.
Ultimately no matter how much protective gear you have, using your head will be your most effective way to prevent injury.  Avoiding risky situations and educating your friends and family will make you much less likely to run into misfortune.