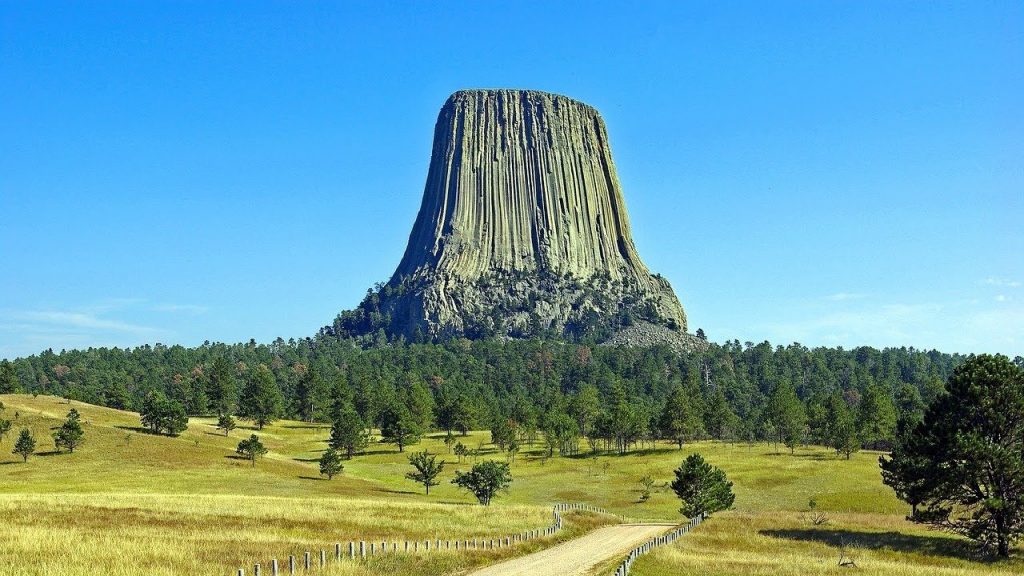 Climbing Devils Tower and Oregon's Big Dunes
CLAW DEVILS TOWER, WYOMING
Frank Sanders delivers climbers a true skin-on-rock close encounter when he leads them up Devils Tower, the stumplike rock pillar that vaults 1,267 feet above the prairie in northeastern Wyoming. Half the people who rope up with Sanders have never climbed before; most top out. A weekend climbing package at the Devils Tower Lodge Bed & Breakfast and Wilderness Climbing Retreat ($525 for two nights, including all meals and equipment; www.devilstowerclimbing.com) begins Saturday on the lodge's indoor climbing wall and progresses to warm-up routes of 50 to 200 feet on the monolith itself.
Climbs range from the classic 5.6-rated Durrance Route to as tight and off-width as you can handle. Summit day starts with a 3:30 a.m. wake-up call, followed by a headlamp-lit stroll to the base of the tower. With luck you'll walk around the football field-size summit and get back to the lodge in time for lunch. Unless, of course, you want to keep climbing, "With one group, I summited three times in a day," Sanders says.
CHILL OUT IN FISH CREEK, ARIZONA
Trade Phoenix streets, hot enough to fry huevos rancheros, for the cool forests of ponderosa pine in the White Mountains along the New Mexico border. Hike from the secluded, cozy Hannagan Meadow Lodge ($85; www.hannaganmeadow.com), situated off U.S. Route 191 at 9,100 feet, down Fish Creek Trail for a backpacking trip stuffed with swimming holes, trout fishing, and wildflowers coaxed into bloom by the summer monsoon.
Fish Creek runs cold and clear all summer and gathers into pools big enough for a refreshing dip. Finish the 14-mile hike by following Black River Trail to its junction with Forest Road 25. For maps and trail info, contact the Alpine Ranger District of Apache-Sitgreaves National Forest (www.fs.fed.us/r3/asnf).
RUSH THE BIG DUNES, OREGON
Sandboarders have been clocked doing 60 miles an hour on the giant 500-foot-high dunes that front the south-central Oregon coastline. "It's the best sand on the continent, like a mountain of tiny ball bearings," says Lon Deale, owner of Sand Master Park in Florence ($16 a day for board rental; www.sandmasterpark.com). Newbies can take a lesson ($35 an hour) with sandboard champ Josh Tenge, then head to Oregon Dunes National Recreation Area, where Sand Master shuttles boarders up 450-foot dunes on fat-tire buggies ($100 an hour). De-sand in a freshwater lake at Jesse M. Honeyman Memorial State Park, where campsites ($17; www.reserveamerica.com) cluster in a Douglas fir forest in the lee of the dunes.
RIDE THE WILD KLAMATH, CALIFORNIA
Most West Coast rivers shrivel to a trickle by this time of year, but the dam-fed Lower Klamath, which separates the Siskiyou and Marble Mountains in northeastern California, is summerproof. Class III Rattlesnake and Mixmaster rapids churn at full bore, and Class IV Dragon's Tooth lurks, ready to swamp rafts that misplay its hairpin turns. Turtle River Rafting Company runs a 22-mile section of the river as an overnight ($260; www.turtleriver.com). Where the waters calm to Class II, commandeer an inflatable kayak to increase the fun factor. At day's end you can sit back and relax on a sandy beach while guides grill up a feast.
WRECK DIVE THE BAY, ONTARIO
Passengers on the retrofitted tug Dawnlight, which patrols the clear waters at the tip of Ontario's Bruce Peninsula, a five-hour drive from Detroit, get a visual feast of the surf-and-turf variety. Topside, white dolomite cliffs rise 150-feet above aquamarine Georgian Bay. Below the surface, the well-preserved remains of 19 merchant ships that ran aground in the last century rest at a depth of 15 to 150 feet, providing Cousteau-caliber scenery for expert divers and snorkelers alike (visibility averages 75 feet). Guests live aboard the Dawnlight from Friday night until Sunday afternoon ($311; www.tobermory.com), exploring wrecks by day and anchoring in pristine coves inside Fathom Five National Marine Park at night.
BOLT THROUGH THE BUTTES, NEBRASKA
File this under "Who Knew?" In the far northwestern corner of Nebraska a mountain biking scene is blossoming around the tiny ranching town of Chadron. The action centers on Pine Ridge, a rocky outrider of the distant Black Hills that's draped in ponderosa pine and laced with more than a hundred miles of mapped and signed trail.
Routes like the six-mile Spotted Tail plunge into tight canyons on narrow catwalks, then scramble back up to a dry ridgeline where vistas extend as far as Mount Rushmore. Rent a bike from Fort Robinson's Mountain Mania ($25 a day; 308-432-3653), camp at nearby Chadron State Park ($14; www.outdoornebraska.org), and dine on fine Mexican fare at Angela's Eatery (308-432-5500) back in Chadron.
TAME THE BIG DAWG, GEORGIA
Heaven might look something like this: secluded campsites tucked beside a raucous woodland stream, grill-ready filet mignon and fresh Caesar salad delivered on command, and long sunny days spent playing on one of the country's wildest white-water rivers. Chattooga River Resort pioneered a concept it calls "luxury camping" ($19, including site, firewood, and gas grill; www.sockemdog.com).
The " la carte room-or rather, tent-service is part of the deal. So is ready access to Section IV of the Chattooga River, where full-day white-water rafting trips ($109) culminate in a head-spinning succession of four Class IV rapids followed by the Class V Sockemdog.