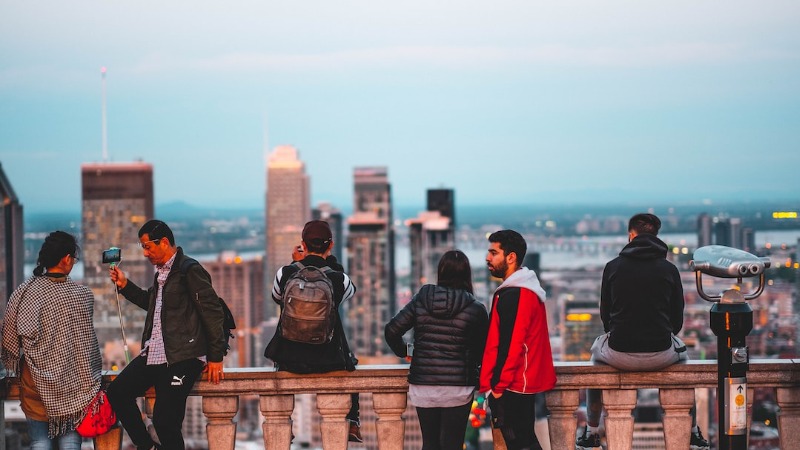 Airbnb success! Montreal, Canada
Airbnb on French Canada Road trip
We love the concept of Airbnb, a site where hosts can offer their houses, apartments, spare rooms, and couches to travellers for a fee which most often is significantly less than you'd otherwise pay in a hotel or similar. But up until recently we hadn't tried it – crazy, I know.
We had a false start a couple of years ago in Los Angeles where the host cancelled a week before we were due to stay there (it was a week before New Year's Eve so accommodation was rather hard to come by at that stage), and to be honest had been a little scared of trying it since. But seeing as we had decided to head away on our northeastern USA road trip at very short notice, all the traditional forms of accommodation in and around Montreal were either booked out or very expensive, so we decided to give Airbnb a go.
We found a place in a rural area near Farnham, about 40 minutes from Montreal and not far from the US border which was in a good price range ($74/night) and looked like a nice place to spend the night.
Driving into Quebec from the US was really weird. It was the same landscape, the roads were the same, but suddenly all the signage was in French and the speed limits were in kilometres! Our cellphones lost reception and Kathy our GPS voice went silent. We were in Canada!
Fortunately we had realised that the GPS didn't have Canadian maps before we entered Canada, so we had time to hotspot the Macbook while on the road in Vermont and take screenshots of some Google Maps of how to get to our Airbnb home for the night. It really wasn't that hard to find – thank goodness!
Rookie mistake – we thought all GPS's that had USA maps also had Canada maps! Apparently not.
We were greeted by Montreal native Vincent, his Cuban wife Sandra and their three little kids, Solange, Leonard, and Alicia, as well as Sandra's mother and their cute Lassie-like puppy Pepito. Vincent spoke great English, which was a relief as our French is rather lacking, but Sandra only spoke French and Spanish, which was a fun challenge for us and for her!
Their house is lovely – it was built in 1845 and Vincent has been lovingly restoring it to its former glory by exposing the gorgeous beams, polishing the floors, and re-cladding the outside in brick. It will be a beautiful home once it is finished – he has even dug about 2 feet of dirt out of the basement to create a huge wine tasting room and cellar, and humidor for Cuban cigars. There is also a small vineyard on the property, from which Vincent makes his own wine, and he also made ice cider this past winter – we were lucky enough to try it and it was delicious!
After a lovely homemade Cuban meal (which cost a small surcharge) and some delicious strawberry daiquiris we practised our Spanish and French with Sandra and she practised her English, and then they took us to a new local brewery in Farnham, the closest town. The beer was great, and it was nice to hang out with such lovely people and see some of the local surroundings that we wouldn't have known about if we were in a hotel. We stopped by the beautiful Farnham cathedral on the way back which was pretty magnificent in the dark. We had a comfortable sleep and headed on our way to Montreal the following morning.
Vincent and Sandra lead incredibly busy lives but they were so welcoming. It was truly fantastic to stay in their home and it was a great first Airbnb experience! We'll definitely be using Airbnb again very soon!
French Canada Road trip
On our northeast USA road trip, we decided to make a detour into the Canadian province of Quebec. It was a great couple of days – we thoroughly enjoyed the old European feel of the cities, and it was fun trying to speak French!
Montreal
Maybe it was the fact that it was a grey, drizzly Sunday morning, but Montreal didn't enthral us. The old city itself was nice, with old stone buildings and a European feel, but it was super quiet – the only people around the old town were tourists snapping away on their iPads, and absolutely nothing was open save one coffee shop and a couple of souvenir stores.
We had a lovely pain au chocolat (yup, it definitely felt like we were in Europe!) for breakfast and wandered around Vieux Montreal for an hour. But there really wasn't much to see (or perhaps we missed something!) so we decided to move on. We'd heard that Quebec City was better anyway!
Quebec City
We drove the 2.5 hours to Quebec City and checked into our hotel, the Best Western Plus Centre-Ville. It was a nice enough hotel, nothing amazing but it satisfied our needs (aside from the $24 parking charge, ouch!). From there we headed into Vieux Quebec, the old walled city. The hotel website said it was only a 15 minute walk, but they neglected to mention the huge cliff with staircases that we had to scale before getting there! (The old town is up on the top of a hill – a very strategic position back in the day I'm sure!).
The old city was amazing. It actually felt like we were in an old French town – the walled town with little cobbled streets (Quebec has the only remaining city walls north of Mexico City), stone buildings with painted shutters and overflowing planter boxes hanging outside, gas lamps lining the streets, and of course people speaking French everywhere. What a charming place! Yes, it's very touristy – nearly all the shops in the old city sell some kind of souvenir t-shirt or kitschy art piece, but it was so lovely to wander around and get lost.
We tried poutine, a Quebec dish that is fries topped with gravy and cheese curds. It sounds like a heart attack in a bowl – and it probably is – but it was yum! I don't think I'd go out of my way to buy it again, but it was one of those things you have to try when in Quebec. We saw glass being blown into flying pigs, tried some local Quebec beer (I got apple beer – rather weird), saw a protest in favour of making public transport free, a free gypsy circus show, and had a lovely tapas-style dinner at a restaurant called Table.
Ile d'Orleans
The following day started with two of the biggest pain au chocolat we had ever seen – yum!!! We hit the road to Ile d'Orleans, an island in the middle of the river about 15 minutes from Quebec. Ile d'Orleans is famous for its wine, cider, and maple syrup, so we spent a few hours driving around the island sampling its wares. The ice cider was great – although very sweet, kind of like a dessert wine.
We didn't think much of the wines, as they weren't to our tastes. But we loved the maple syrup (who doesn't?), and bought a tiny little jar of maple butter to take with us on our journey, as well as some local cheese and baguettes. We wanted to see the Montmorency Falls (30m higher than Niagara!) but it cost $10 just to drive into the carpark, so we sufficed with seeing them from the highway – pretty impressive nonetheless!
We headed back to Quebec and had one last look around the old city and discovered a big farmers market, where we bought some locally-made Andouille sausages and some Quebec wine before heading to Chemin du Lac camping ground about 20 minutes south of the city for the night. For dinner we ate all our local produce – so good!