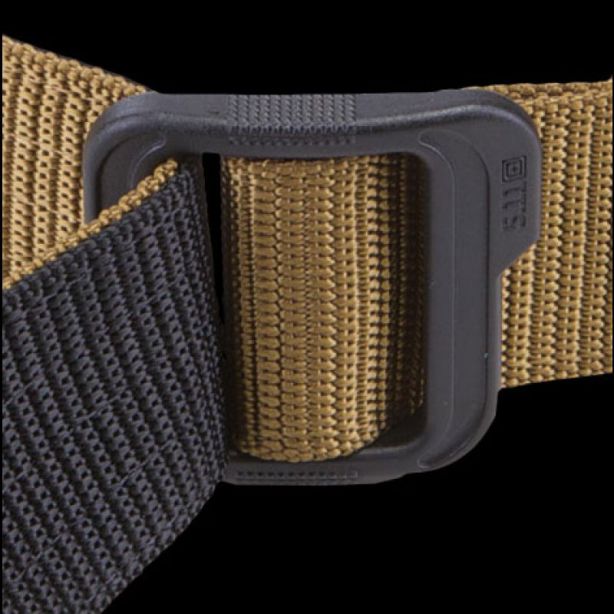 Review: 5.11 Tactical Double Duty Belt
The 5.11 Tactical Double "Duty" belt is a very nice pistol belt for the price but I'm not sure I'd refer to it as a duty belt. A duty belt is typically bigger and beefier and used to carry equipment easily, in a readily-accessible manner, while leaving the hands free to interact. This is more than just a pistol and mags. This is radio, cuffs, taser, etc… I would not consider this belt a "duty" belt.
Description from their website: "With a dual-layer reversible design that offers two different color options, the 1.5" Double Duty TDU® Belt offers exceptional versatility in a quick and efficient design. Crafted from rip-resistant nylon, the 5.11® Double Duty Belt incorporates a durable non-metallic buckle that won't set off metal detectors, making it a great choice for both air travel and EOD. An easy thread belt tip ensures fast on and off, and 5 rows of stitching provide maximum stability."
First of all the price. $23. This is a very inexpensive belt for what it delivers. You can't even get a decent belt at Wal-Mart for what this belt costs, and this one will out last any belt you get at Wally World.
The belt is two sided so you can wear either the black side for dress or to be less obvious or you can flip it around to it's colored side (either green or brown depending on your choice) if you're not worried about people spotting the belt. With most of the zombies out there today this won't be a problem anyways. I like mine green-out unless dressing up.
This belt is a 1.5″ (You can also get 1.75″) belt so it's the biggest you can get without having special pants with bigger loops. Five horizontal stitches keep the nylon weave stiff. In the month I've worn it it really hasn't gotten floppy at all and holds up my fully loaded XDm, 2 full spare mags (19 rounds each) and Gerber suspension Multi-tool without breaking a sweat. To do that with my old leather belt I had to wear it really tight. A little TMI warning… Wearing a belt too tight really irritates my gut so having a belt I don't have to over tighten to carry my gear helps immensely. Also, make sure you get the fit right because at first it's not easy to adjust like a typical belt with holes. Once you get use to it, it does get a little easier to adjust. Also given the buckle design the buckle and belt do stick out quite a bit.
Customer service. For a company like this it sucks. It took 3 weeks to get my belt. 2 weeks after ordering I emailed customer service wondering why I haven't even so much as gotten a order or shipping confirmation email. FOUR DAYS LATER they emailed me with that confirmation and a tracking number. When I finally did receive it everything was great. Packaging was adequate and nothing was damaged.
Sizing. This is important! These belts are NOT sized by your waist size like a typical belt. They are sized by belt length. Measure your current best fitting belt tip to buckle and order one size up from the number, especially if you're going to carry inside the waistband. I wear 38″ waist pants even though I'm a 36″ waist because I carry IWB a lot so I need the room. The belt I ordered was the XL which is for 40″-42″. It fits perfect with about 6″ of belt to spare. Moral of the story? Measure twice, size up, order once.
Overall, despite the slow customer service (which may have been a fluke as I've never had a problem before) I do highly recommend this belt and other products from 5.11 Tactical. I also have two of their holster shirts and love them though they won't handle my XDm. They handle my wife's LCP very well and are also handy for holding other things like wallets, keys, flashlights, etc…
To order from them goto: http://www.511tactical.com/double-duty-tdu-belt-1-5.html
Order one today and in the meantime don't forget to Like, Share, Comment and Subscribe. Share the love and keep on prepping.