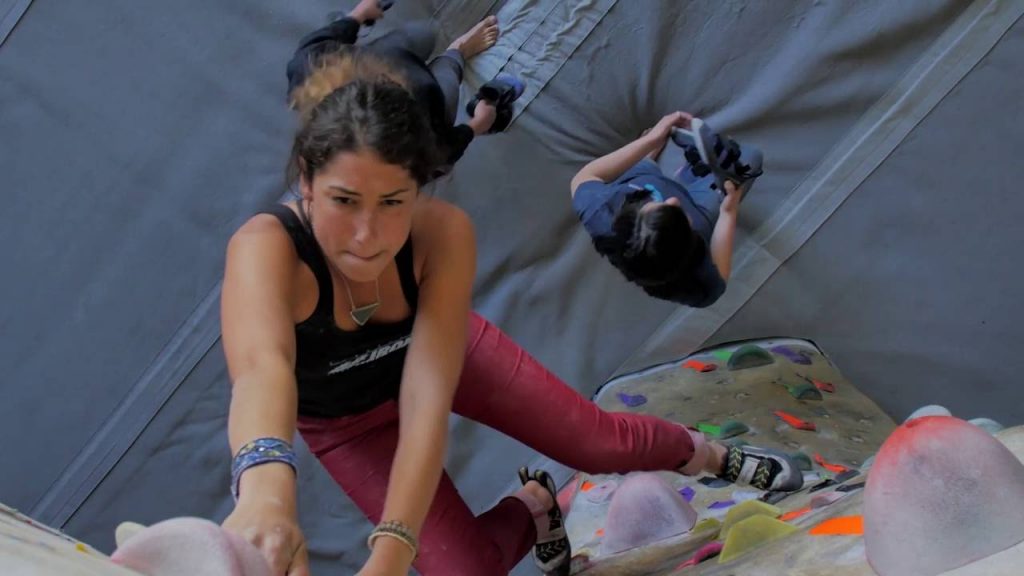 Sunburn-free Climbing
Indoor climbing gyms are probably the best places to learn to climb, especially when you're working long days, or battling fickle weather. There's no worry of falling rock, poison oak, or getting lost, leaving you to concentrate on developing strength, technique and rope work. Later, you can take those basic skills outdoors and apply them to real rock.
Artificial climbing walls aren't quite as abundant as Starbucks, but at last count there are 400 to 500 in the U.S. Look for indoor walls at climbing gyms, health clubs, and schools, as well as cruise ships, amusement parks and fairs. Many gyms have weight rooms, as well as an artificial climbing wall, and most host climbing competitions for climbers of all levels.
Getting Started
If you are new to climbing, sign up for an introductory course of basic rope craft and technique. In less than an hour, you'll learn how to buckle your harness, belay, and tie into the rope. Intro to climbing classes usually cost $15 to $30. Your instructor should also give you a few pointers on what to do once you get off the ground and on to the wall. Here are a few tips to help you get started:
Practice Movement
Indoors or outdoors, movement is crucial to climbing. Most indoor gyms have bouldering areas, or at least allow you to climb ropeless on the walls while remaining in close proximity to the ground. Rather than tying into the rope, practice traversing (moving horizontally on the holds close to the ground). Concentrate on placing your foot in the correct position the first time it touches each hold. On real rock, you often don't have the luxury of readjusting your feet, so use your wall time to develop accuracy. Experiment with handholds. Practice pulling straight down on each hold; then attempt to use the hold by pulling from the left or right side as well. Reposition your body so you can grasp the hold from the top, side, and bottom – keeping in mind that many natural handholds won't be at obvious, user-friendly angles.
Build Strength
Once again, ignore the roped routes and head to the bouldering cave. Try to stay on the wall for 20-minute sessions, without touching the ground. Climb with control, allowing your muscles to tire but not get so pumped that you have to let go. Stick to big holds so as not to prematurely exhaust your fingers and avoid moves that hurt. Wall work on big holds strengthens finger tendons, which will help stave off injury when you're cranking on real rock. It'll also build the forearms, lats, abdominals, pectorals, and back muscles you need to defy gravity. Practice getting into resting positions, so you can hold on with one arm, and shake out the muscles on the other. (You can also spend a couple of days a week in the weight room, working your shoulders, arms, and back, but it's more efficient to visit a climbing wall.)
Practice for routes
Indoor roped routes are much more straightforward than anything you'll find outdoors, but some skills are easily transferable. Even if you are planning on outdoor crack climbing, you'll still have to clip the rope into carabiners after placing gear. Indoor gyms are a perfect place to perfect the art of clipping. Work on smooth delivery of the rope to the carabiner and make sure the rope is clipped in the right direction, the first time, and every time.
Leading indoors is relatively safe, since the bolts are placed in close proximity of one another. To transfer leading skills outdoors, try to lead as many new routes as possible, rather than sticking to the ones you already have wired. The scariest part of leading is getting above your protection. Look for gym routes that allow you to get your feet above your gear before clipping the next bolt. If you're going to stick to bolted routes outdoors, you can practice falling indoors by clipping a bolt, making a few moves, then jumping off. Pay close attention to body and rope position so you don't get flipped upside down. If your goal is setting your own gear, falling is not an option. Indoors, work on down climbing. Clip a bolt and begin to move upward several feet. Then reverse your moves back down to the bolt, maneuver into a "rest" position, then move up to the next bolt.