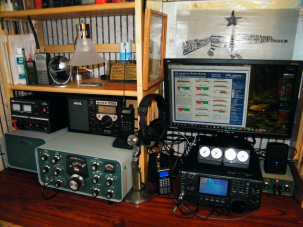 Untraceable SHTF Comms
This is a program where Ham repeaters are wired into the internet. This is obviously only going to work if the grid and the internet are working but if you mask your IP, use proxies, VPNs, TOR, etc… you're location will be fairly secure. This program only works with a valid call sign issued by the FCC. You can also use this on a laptop and (illegal activity warning) jack into the outside phone technician box on a random house to get your access, hell, everyone has high speed internet now a days… OR, use someones free WiFi like the public library or McDonald's. The options are literally limitless if the grid is still up. They also have smartphone apps but as I said in the video, USE A BURNER PHONE and DO NOT link up any accounts on that phone or BINGO you're busted!
FLDIGI
I mention it in the video but here is the link DOWNLOAD ME HERE.
National prepper frequencies – DON'T USE THEM!!!
You can bet your ass these frequencies will, as well as already are, being monitored by the bad guys. OPSEC, OPSEC, OPSEC!!! These plague frequencies are as follows:
80 Meters – 3.818 MHz LSB
(TAPRN Net: Sundays at 9 PM ET)
40 Meters – 7.242 MHz LSB
40 Meters Morse Code / Digital – 7.073 MHz USB
20 Meters – 14.242 MHz USB
20 Meters Morse Code / Digital – 14.073 MHz USB
2 Meters – 146.420 MHz FM
440 (70 cm) – 446.420 MHz FM
FRS/GMRS – Channel 4 (462.6375 MHz)
CB – Channel 4 (27.005 MHz)
MURS – Channel 4 (154.570 MHz)
Stay the hell away from and avoid these like you would the plague.
Receive Only
If all you want to do is gather as much information as you can then just get receivers. A good, digital police scanner and a good, side-band capable shortwave receiver with continuous frequency coverage are all you will need.
Always, always, always do your own research. I can't stress that enough. I AM NOT A RADIO GOD!!! I am just another average extra class ham radio operator that happens to also be a prepper wanting to share my knowledge with the community. There are so many things you need to know, this is just a primer. For instance, proper grounding of equipment, antennas, etc… is not only critical to keep your expensive equipment safe from lightning but also diminishes noise in the signal and allows for clearer communications. It's a whole other world to learn about.
I've included some pictures of my setup for reference.