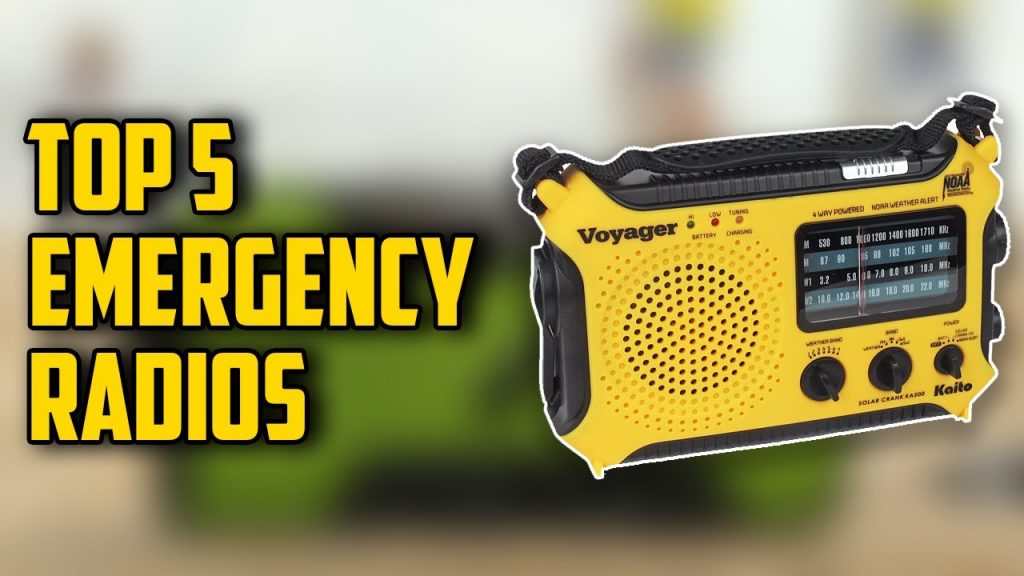 5 Best Emergency Radios for 2020
We hope that you would never have to actually use an emergency radio in a true disaster situation but if you do, you are going to need something that is reliable. The fact is, disasters, both natural and man-made are increasing in both numbers and destruction.
Your emergency radio will allow you to keep updated on any weather and disaster alerts for your area so that you are always one step ahead.
We have taken the hard work out of finding a reliable emergency radio by bringing you our pick of the 5 best emergency radios for 2020.
If you're ready, let's get started…
The table below will show which 5 emergency radios we are going to be taking a look at today.
Esky Emergency Power Bank Radio (Best Budget Radio)
This upgraded Esky Portable Radio might be small but it is packed with useful features. It is a 3-in-1 multifunctional device that works as an AM/FM/NOAA weather radio, LED illuminator, and a portable battery charger which can be used to charge your USB devices.
The upgraded version is 8 times brighter and has 3 times larger battery capacity than the standard Esky! The LED light has gone from 1W/50 lumen to 3W/140 lumen, and the capacity from 350mAh to 1000mAh.
You have three options to charge this radio.
Micro USB port charging
Solar
Manual hand cranking
Sangean MMR-88 Emergency Radio
The Sangean MMR-88 offers up a wide range of frequency bands, including AM, FM, and a weather alert tuner. It can be powered up via solar, hand crank or USB and has an adjustable flashlight including an SOS setting.
It comes with 19 digital presets — so you can find working stations and bounce back and forth without having to search for them again.
Like the Esky, this also works as a portable battery pack to keep your phone or other USB devices and media players charged when it matters the most. The MMR-88 is extremely versatile and user friendly.
AM/FM Pocket Radio by Vondior
The Pocket Radio by Vondior is an ultra-portable radio that can be easily used in an emergency. This compact size isn't at the expense of quality and functionality. If you don't believe how good this little bit of kit is, head over to Amazon and read the reviews for yourself.
The reception, the sound quality, and the battery life are what make this one of our top 5 emergency radios.
You won't have to worry about not being able to pick up any stations as in the middle of nowhere, this little radio will not fail you. It does run on AA batteries but they will last you up to a few weeks depending on how much you use it.
Duronic Apex Emergency Radio
I personally love the look of the Duronic Apex emergency radio. Like a couple of those that we have looked at here, the Duronic Apex can be charged by solar, hand-crank, or USB cable.
One of the Apex's additional features is a flashlight that can be used for up to 6 hours on a full charge.
It features a built-in AM/FM radio and can be used to charge your phone or other USB devices. If you choose to wind the radio up, one minute of winding will give you around 30 minutes of use.
Midland ER300 Emergency Radio
The Midland ER300 is an AM/FM NOAA Weather Alert Crank Radio that can keep you updated on the latest weather forecasts, alerts, and other emergency messages. When Alerts are received, an audible siren will activate.
The flashlight and LCD backlight will flash on and off for one minute and the Alert is stored for one Hour. The AM/FM receiver gives access to the news to stay informed or listen to your favorite radio stations.
The large capacity 2000mAh rechargeable lithium Ion battery will give up to 25 hours of normal use on a full charge and this can be charged via solar, crank, or USB.
The flashlight is super bright for radio and can easily be adjusted to conserve battery life. An Ultra Sonic Dog Whistle option may assist search and rescue teams during an emergency situation.
Cell Phones and other USB powered devices can be charged using the USB charging cable for that device. Simply connect the charging cable to the outlet port on the side of the ER300 labeled "USB Out".