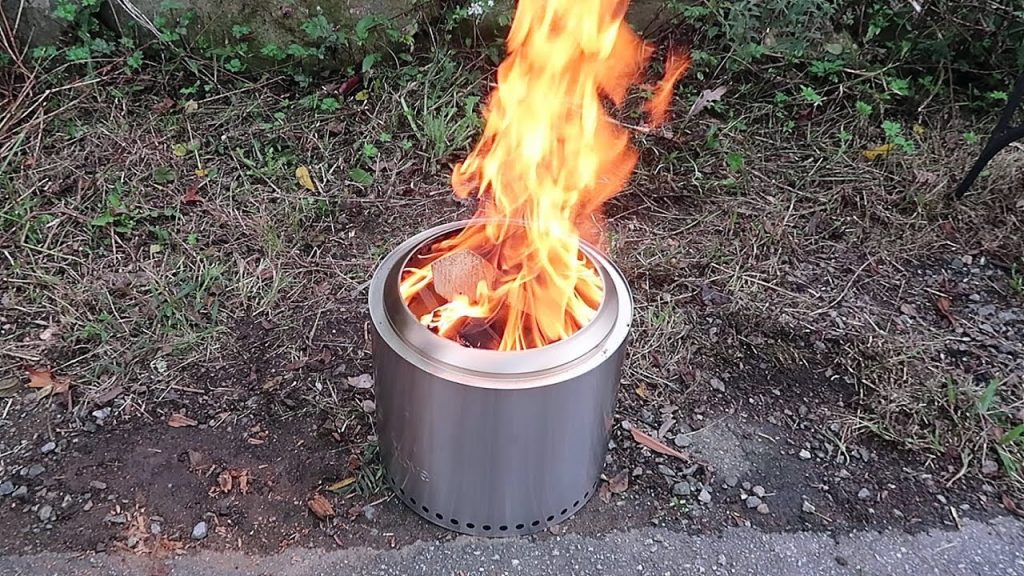 Best Portable Fire Pit
What springs to mind when you envision the perfect summer night? Lightning bugs? Fireworks? A bonfire? Well, lightning bugs have their own agenda, and fireworks tend to only happen on the Fourth of July, but a bonfire is completely within your control.
But before you pile up some branches and reach for your lighter, make sure you are being safe. Fire pits are a great, simple way to keep flames contained and under control. A portable fire pit can give you the power to bring a bonfire with you wherever you go.
A portable fire pit can be easily transported, set up, and broken down once you have run out of marshmallows. So if you plan on camping, visiting a beach, or just want the option to move fire around your own backyard, make sure you've got of these with you.
This portable fire pit looks like your standard bowl fire pit. But instead of remaining stationary, the legs fold up into themselves, lock into place, and fits into a convenient carrying bag. The included safety mesh cover will help to keep your fire contained, while also preventing sparks, embers, and flying debris.
It also features a heat-resistant finish. While I still wouldn't recommend touching the hot bowl of the fire pit, the heat-resistant properties might save you from a more significant burn. This pit can handle wood and coals and is a great option for backyards and camping trips.
This portable fire pit almost looks like a camp seat. It features four legs and a steel mesh sheet that stretches across the top. To build a fire, set your logs on top of the suspended mesh, and light it up! With it collapses, the four legs fold in and the steel mesh can be rolled into a small cylinder.
It all fits into a slim carrying case that measures 25.6" x 2.5" x 2.5". It weighs only 2.4lbs, which makes it a great option for campers and backpackers alike. This fire pit is incredibly unique. You can be sure you'll be the envy of everyone you are camping with.
This portable fire pit is not as collapsible as the first two entries on this list. But if you are looking to only build fires at home but still want to be able to move the pit around your deck or backyard, this is a great option for you. It measures 28" x 46", diameter by height, and weighs 30lbs.
It has two wheels built into the base and a conveniently placed handle, which makes it easy to roll around. The sides of this pit have a built-in screen, which keeps your flames contained while also offering a great view of the fire. This is a fantastic option for building larger fires safely.
This portable fire pit doesn't look like any others. It has a minimalist design and is constructed of super sleek stainless steel. The double-wall design maximizes airflow, and the vents at the bottom of the cylindrical pit allow oxygen in to feed the flame.
This creates a more efficient burn, which means reduced smoke. Plus, no more half-burned logs leftover at the end of the night. When you are finished with your bonfire, just wait for the pit to cool and pack it into its heavy-duty carrying case. The pit measures 14" tall by a 19" diameter.
This collapsible portable fire pit takes about 30 seconds to set up. Just pull the pit out of its conveniently flat carrying case, tilt the legs down, lock them into place, and open up the fire pit like a book. Everything stays together in one solid piece, so you don't need to worry about losing the legs, or missing a piece of equipment.
It comes in two sizes, regular or mini, with the regular pit featuring a 13" x 10" grill surface and the mini featuring a 9" x 6.75" grilling surface. Both sizes weigh less than two pounds. They can even easily slide into the laptop sleeve of your backpack. This is a great option for anyone who wants to hike before they build their fire for the night.
An easy way to start your bonfire
If you are a fan of Shark Tank, you may already be familiar with this amazing product. This fire starter is very safe and incredibly easy to use. Just pour about half a cup of the Instafire pebbles directly into your fire pit, and light it up with a match or lighter.
Instafire will work nearly anywhere, including on top of wet surfaces, in snow or sleet, or in winds up to 30mph. It is made from a blend of recycled wood, volcanic rock, and a patented blend of paraffin wax, so you don't need to worry about transporting harmful chemicals. Instafire is available in single-use packets, each packet weighing an amazingly light 1.8oz. This is an ideal solution for backpackers, as it is safe, light, and incredibly effective.
No matter where you choose to set up camp and light a bonfire this summer, make sure you have a packet of Instafire with you to keep the party going.