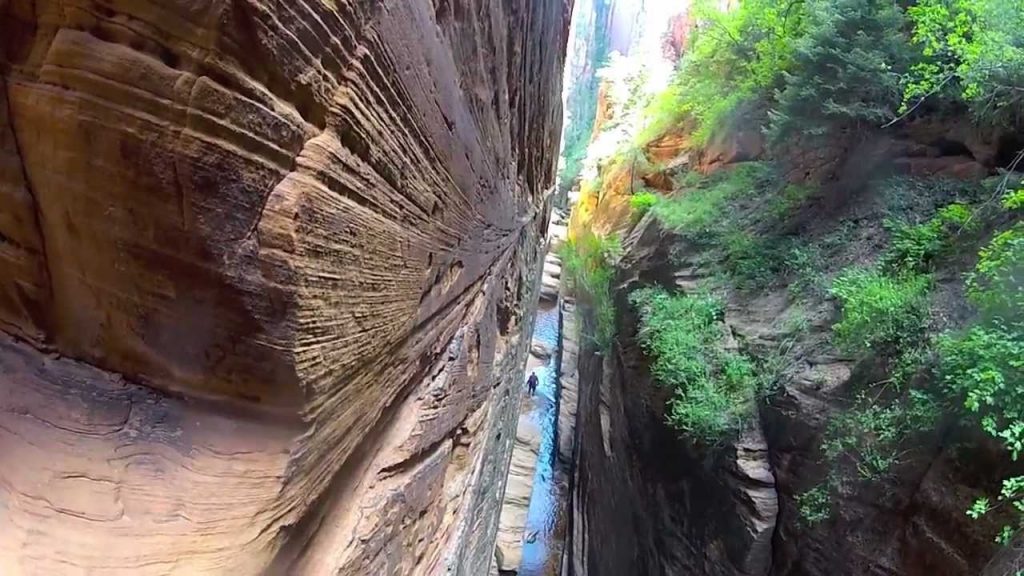 Heaps Canyon: Climbing Southern Utah
Slot canyons exist all over the world, but there's nowhere on earth that can match the quantity and quality of the classic slots of Southern Utah. There are two reasons for this – millions of acres of soft sand stone and flowing water. Unlike water flowing over dirt which creates a wider and wider river, when water flows over sandstone it gets deeper and deeper. The classic Zion Narrows slot canyon is one of the easiest and most famous of them all. Cutting through 15 miles of sandstone, the surrounding vertical walls tower hundreds of feet overhead and there are many places in it that never see direct sunlight. The bottom is lined with a wide burbling creek which over the years has cut the canyon walls and provides a slippery, although easy path to walk through.
On the other end of the difficulty spectrum is the nearby Heaps slot canyon. I first heard of Heaps and its sister slot canyon, Imlay, years ago when accomplished rock climbers discussed them in reverent terms with voodoo-like respect. Heaps Canyon is considered a "technical canyon" meaning it requires rappels, rope-work, climbing, hooking and many tricks-of-the-trade to navigate it. To highten the mystique, many technical slot canyon have free-hanging rappels over undercut rock. Once you pull the rope, there's no going back and you are committed to completing the entire descent.
What made Heaps and Imlay exceptionally fearsome was their unrelenting nature. Instead of just one or two rappels, they had 20 to 30 apiece. Their narrow geometry (often just wide enough to squeeze through) created deep undercut potholes with slick, overhanging sides that were difficult to escape from, as demonstrated by numerous drowned animals. An early descentionist of Heaps recounted to me the horrors of trying to drill a hook placement while treading freezing cold water in a deep pothole that he shared with a deer carcass. As much as anything, what makes Heaps and Imlay canyons "special" is that they are so continuously difficult. After climbing out of one pothole, you stem your way down-canyon fifty feet… and go into another. And another. Even accomplished canyoneers still take 12 to 20 hours to complete the passage and some parties break it up into a two day affair, at times, unintentionally.
I had done a few easier canyons, but never attempted Heaps or Imlay as they required special tricks, gear and experience that I didn't have. So when I got an invitation from my friend Brad Barlage to join an experienced group heading down Heaps, I almost immediately accepted. My only reluctance was that at the time of the call, I was listening to Aaron Ralston's book "Between a Rock and a Hard Place" where Aaron recounts getting his arm trapped while canyoneering and finally resorts to self amputation to get free. I had to think about it for a second, but, uhmmm, sure, I'd love to go. My arm started to throb in sympathy to Aaron's plight and my immediate future.
Our Heaps adventure began with a 2:50am wake up call that would get us up early enough to stash a spare rope at Upper Emerald Pools and then hike the steep switchback trail to the top of Angels Landing, which was about the halfway mark on of the long approach. Schlepping sizable backpacks full of gear, we crested the West Rim Trail right at first light and got an incredible sunrise preview of what we were about to enter. After pumping out 2,500 feet of vertical gain, we looked down valley and saw how we would now have to lose it again through an endless series of canyons that were so tight it appeared they were pinched off.
Out group consisted of five people; Mike and Lisa Ray from Arizona, who were the experienced couple, Chris Robinson from Bozeman, Brad Barlage from Salt Lake City, and myself from Park City. Four to five people sound like a big group, but it works well as it allows two groups to leap-frog each other, setting up ropes while the later group pulls them down from a previous rappel.
The beginning of Heaps kicked off with some Manzanita bushwhacking and loose scree which was followed by two rappels over cliff bands. This landed us in the aptly named Phantom Valley where we walked for a ways before the canyon narrowed to two feet wide and presented the first of many potholes. Even though we were overheating while hiking in shorts and t-shirts, we donned wetsuits, drysuits, harnesses and helmets in anticipation of the upcoming frigid action.
One of the first obstacles to cross was a series of undercut potholes each about the size of a small bedroom and lined up three deep. After paying out about 40 feet of rope and securing it to a bag containing the rest of the rope, Brad succeeded in an awkward throw which spanned two of the potholes, leaving the rope draped across them. Next, Mike rappelled into the first hole and pulled on the rope, relying (hopefully) and the friction from the thrown bag to be enough for him to hoist himself out on the other side. It worked! Now that he was across, he fixed the rope so that we could follow with rope ascenders while he forged ahead and dealt with the next problem.
Utah is experiencing a draught, which meant the water level in the holes was low, which in turn meant the distance we had to climb out of them was high. At times, the nearest hold was six feet out of reach and had to be snagged with a metal hook attached to an extender pole while treading water. Another technique that worked well was using a partner as a stepping stone and climbing up and out over them.
Heaps is mercifully broken up by long sections of easy, flat walking between tough technical areas. Although it wasn't challenging, one of my favorite sections was a stroll through a perfectly split, dry, flat corridor with 200 foot walls that is only accessible by doing the entire canyon. The red walls provided intense contrast to the white sand, green trees and occasional shafts of sunlight that filtered down from above in a magical setting.
After 9 hours, we finally made it to the end of the canyon. All that separated us from the hiking Emerald Pools hiking trail was 300 feet, which unfortunately was 300 vertical feet. This is part of what makes Heaps so classic — it saves the biggest and best drop right for the very end! The rappel was overhanging in its entirety and required two ropes to be tied together to reach the valley floor, which meant that we had to pass a knot in mid rappel while spinning 100 feet off the valley floor. After Chris completed a single rope rappel, he tied the tag line we had stashed in the poison ivy on to the main rope so we could then retrieve the ropes after the last person.
As the last person touched down, the sun set and it started to rain. As if Heaps wasn't enough of an adventure, we were grateful not to be stuck in it while it was flash-flooding and dark. The gentle path back to the trailhead was a perfect ending to our Heaps adventure and hopefully a great beginning of many more slot canyons to come.