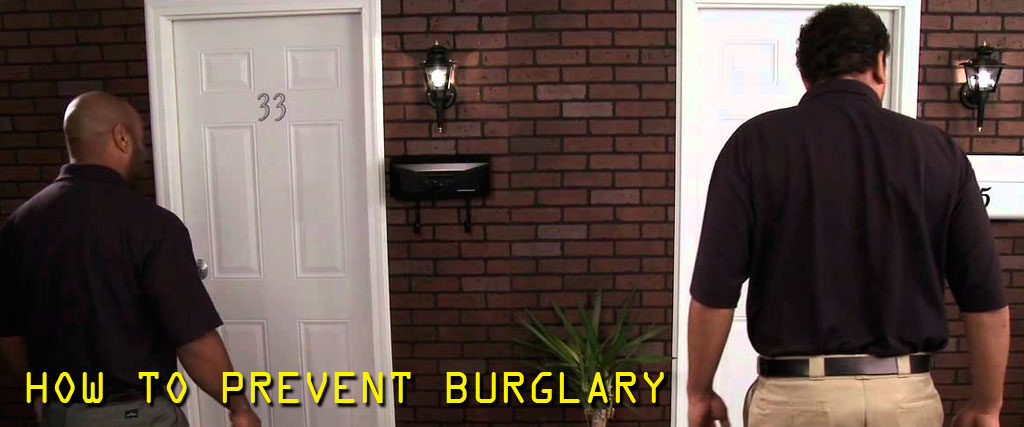 How to Prevent Burglary
Preparedness is not just about being ready for a major catastrophe, it is about being one step ahead of the dangers that we are likely to face on a day to day basis. One of the biggest dangers that we could face in our lifetime is home burglary.
According to statistics provided by  the  Federal Bureau of Investigation, there were an estimated 2,159,878 burglaries in 2010, and 60.5 % of those involved forcible entry.
In this article I am going to show you how to prevent burglary. If you haven't taken steps to make your property an unlikely target, you need to read this now!
Burglary Prevention Checklist
The goal of any thief is to steal valuable items while getting in and out of the target residence unnoticed.  To prevent burglary you need to make all of the above unlikely for them.
Keep the outside of your home well lit.  Because thieves always target homes where they are most likely to be successful, they start by looking for a poorly lit areas where they might be able to sneak in without being caught.  Illuminate you exterior and you will be well on your way to repelling criminals.  Motion sensors are great way to keep your home lit while saving on electrical bills.
Keep the inside lights on when you are not home.  If a burglar believes that you are gone, they are much more likely to target your house.  Logically then, one of the best ways to prevent burglary is to leave the lights on when you leave home for a short amount of time.  Set the lights on a timer if your are going on a vacation.
Keep your windows covered.  Doing so will prevent a would-be intruder from seeing the layout of your home and whether or not there is any activity inside.  Be sure to cover large windows with curtains and close blinds when your are away or asleep.
Keep trees and shrubs trimmed.  Crooks will look for any place on your property that they can hide and use it as a staging area before they break in. The less cover they have, the less attractive your house looks.
Install a security system.  If you aren't able to install one, purchase a sticker and place it on your window anyway.  Thieves are much less likely to break in to a house where they believe a security system is installed.  Loud screeching noises kind of ruins the "going unnoticed" thing for them.
Do NOT display a sticker promoting the fact that you own guns.  Bad guys will see this and know that you have valuable items in the home.  Now all they have to do is wait until you are gone before they make their move.
Always lock your doors and windows.  This one kind of goes without saying but wouldn't it be such a shame if your house got broken into because of something this simple.  According to the FBI statistics mentioned earlier, about 40% of break ins are not forced, meaning burglars are able to simply walk right in or crawl through a window.
Install deadbolts on exterior doors.  You do not have to be a handy-man to install a deadbolt lock on a door and by doing so you will significantly reduce the risk of break in through a door.  If a burglar meets too much resistance when trying to break in, it is likely that he/she will give up and move on to an easier target.
Use a two-by-four to block sliding doors from opening.  Sliding doors are very easy to break in to if you do not use a stopper such a two-by-four or wooden dowel on the track.  If you haven't taken this simple precaution yet, you better get to it.
Do not leave valuable items on display.  Leaving expensive items in plain sight or even leaving the box of an expensive item exposed could tip thieves off that you have something worth stealing.
Never make it obvious that you are on vacation. Stop mail delivery, make sure garbage cans are not left outside, and hire someone to cut your grass if you will be gone for an extended period of time.  It also always helps to have a trusted neighbor or friend keep an eye on your home while you are away.