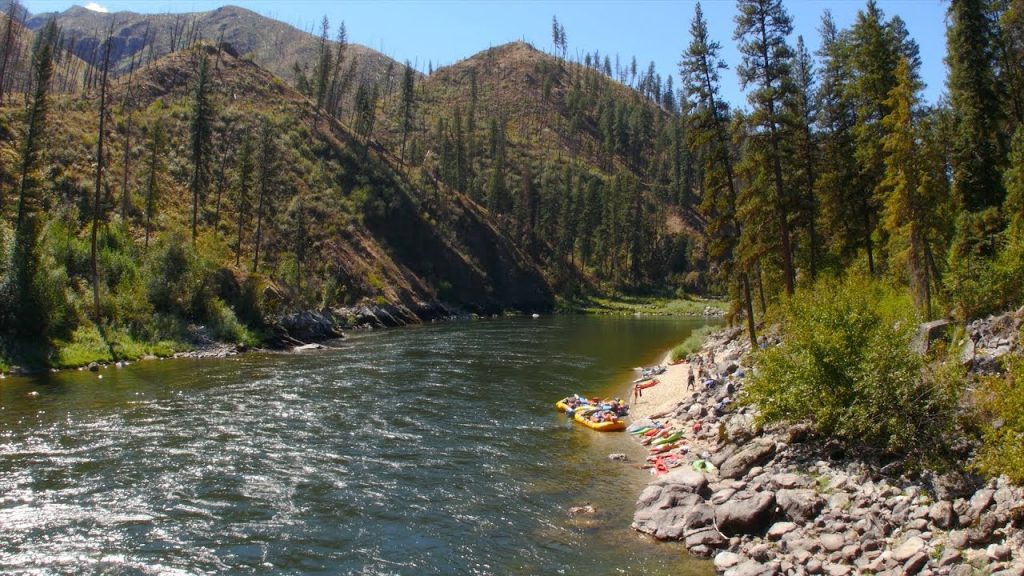 Rafting Idaho's Salmon River
As I drop into scary looking Half and Half Rapid, the inflatable kayak lurches in the whitewater, forcing me to paddle hard to keep the "rubber ducky" head-on to the bigger standing waves. The Salmon River pummels the little boat with unexpected violence and soaks me with wave after wave, but I manage to keep it upright and more or less going in the right direction, paddling nonstop to maintain control. Focus is the name of the game here. The effort is both challenging and exhilarating, and when suddenly you're through into calmer water, a lot of fun.
There's whooping and laughter from the big rafts around me as all of us drift out of the whitewater and into a calm stretch. I see one of my fellow kayakers, Tim, from England, hasn't been as lucky and is floating without his boat nearby. There's no worries, though, as every rubber ducky has a mama duck—one of the big rafts–to look out for him, and Jake in the paddle raft makes sure Tim is unharmed and gets safely back in his kayak. Codye, the guide who paddles one of the larger rafts and is my mama duck, gives me a thumbs up and says, "Way to go! Nice work!"
Our small band is about halfway through a four day, 72-mile trip on Idaho's Salmon River, sometimes known as the "River of No Return" for its character and white water. We're a mixed assortment of rafts, paddle rafts, cargo rafts and one traditional hard-sided dory–the trademark of many OARS river trips. Each day, you just pick your poison: chill out as a passenger in one of the larger rafts, earn you keep in the paddle raft, or choose a day in the high riding dory, a roller coaster experience like no other. For the adventure minded, there's always the inflatable kayaks or the stand-up paddleboard. Most of us just picked a different ride every day, and so had a different experience.
That kind of flexibility adds to the fun of a few days on the river. In fact, the Salmon in summer may be the perfect venue for a classic river trip. Easy access by air and reliable summer weather, coupled with mostly moderate white water and stunning scenery makes this stretch of the Lower Salmon something special. Between Hammer Creek, where we put in, and the confluence with the mighty Snake River, the route runs through three separate gorges: Cougar, Snow Hole and Blue Canyon, the most impressive of all. With famous rapids such as Demons Drop, Half and Half, and Pine Bar, and some of America's most beautiful inland white-sand beaches for camping and lunch stops, this part of river shows you a side to Idaho few tourists get to see.
This is no ordinary outing, but famed river outfitter OARS' unique craft-beer trip, where one of the West's storied micro-breweries comes along with a sampling of its best beers, and a noted chef prepares an elaborate meal each night to put the finishing touch on a long day on the river. This combination makes an irresistible choice for a lot of rafters: the pleasure of great food, a sampling of unique beers night after night, and the rugged scenery along the Salmon. There's a final, powerful allure to this offering from OARS. It's no secret that river rafting trips make one of the best family vacations available anywhere, but on the craft beer trip, everyone has to be 21 years old. No children allowed. So it's the river trip of choice for those adults who choose to vacation without kids.
And while we're all adults on this trip, it's still a family affair: Gary has brought not just his own kid, but his young adult nieces and nephews as well. We've got rafters who have come from as close as Seattle and as far away as Philadelphia and London. This outing is all about fun, and those in the know make the effort to sign up for this special river trip that is gaining a real following. For me it began with a short flight to Lewiston, Idaho, and a shuttle to an inn on the Snake River to overnight. That evening, the OARS head guide for the trip, Gena, held a briefing where she reminded us what we needed to bring, and issued dry bags for our gear (one small one to keep with us in the rafts, another "checked" bag for our spare clothes and shoes).
In the morning, after breakfast, everyone piles in the van for the ride out to Hammer Creek, our put in point. We make one stop enroute, at the Nez Pierce Museum for some deep background on the Native Americans who have called this region home for thousands of years. After that it's down to our put in point where the rafts await along the fast flowing Salmon. Anticipation rises perceptibly among this group of total strangers who in the next few days will become friends. One of the senior guides, Codye, gives us the safety briefing and trip overview. After that, we each pick a boat, climb in and start down the river.
This is the true beginning of "river time," a special state of mind where one can simply let go of cares or concerns and just go with the flow, literally. There will be no cell service nor email, just the reality of the moment as the river takes us on its journey downstream. It's a liberating sensation. I start out in Codye's raft along with photographer James Kaiser, perched high in the rear, like a sultan, his Pelican cases of lenses and bodies lashed nearby. Our craft becomes known as the "media boat," which quickly becomes a famously good ride where the quality of humor is high.
Life on the River
The Salmon, a classic "pool and drop river," has the perfect mix of white water–including numerous Class III rapids–interspersed with stretches of calm if fast flowing water. That provides plenty of opportunity to have an adrenalin rush while riding the rapids, but also enough time to relax, catch some rays and take in the magnificent if arid scenery here in the Seven Devils region of the state. It's an ecosystem unique in the otherwise mostly forested Pacific Northwest.
Besides the compelling natural history of the area, with geologic features such as dramatic exposed sections of columnar basalt created as the lava that formed the landscape cooled, there is ample human history here as well. Codye and the other guides point out some of the original homesteads along the river. Many of the historic settlements were driven by a late 19th century gold rush, still marked by the remains of mining camps and locations where Chinese laborers once lived. In a few places the guides will even show you petroglyphs of ochre and iron oxide left on the rocks by ancient cultures. The Salmon cuts through eons of time. Long the life blood and primary means of travel here even in prehistoric times, even today, the river is the only way in to some ranches and residences.
Our party lucked out with the usual good weather on the Salmon in summer. If anything, the heat wave we found made things a little too hot along the river as temperatures climbed by late afternoon well into the triple digits. That's not a problem, however, as when you get too hot from paddling, you can just jump in the river to cool off. Believe me, that's a popular past time. Getting back in the raft is no problem: Even though much smaller than me, Codye proved again and again she can handle the maneuver. She just pushes you down deeper into the river, and when you pop back up like a cork she uses the momentum to haul you back in the raft by the straps on your life vest like a sack of potatoes.
Our flotilla of rafts, kayaks and the dory "eddies out" to the river bank several times in the afternoon for pit stops and water breaks, but it's not until you get into camp that the special nature of this outing becomes apparent. After we all pulled to the bank at Gena's signal, onto one of the many white sand beaches along the Salmon, we followed the usual camp routine, the same as any trip. As the big rafts are unloaded, you walk down to the water to get your "checked" bag, your tent, and your "sleeping kit" (with sleeping bag and pillow) and set up your own tent anywhere you want. That first night comes with one twist: since on all river trips, each party must carry out all waste, you are instructed on the correct use of the dreaded "unit" or "groover," the latrine device, which ensures no human waste is left behind.
But as we finish pitching our tents and making camp, we see Kyle from Big Sky Brewery has been hard at work. He's got a couple of kegs of beer already in the river to keep cool, connected to his "jockey box," where 50 feet of tubing run through ice cubes before exiting via the tap. So Kyle is pulling drafts the equal to any you'll get at the corner ale house, all in the middle of nowhere on a beautiful bend in the Salmon. Life cannot get better than an ice cold draft beer after a day on the river. We try a bit of Moose Drool, the brewery's signature product, then a bit of Big Sky IPA, and other beers Kyle has brought in cans in the big coolers. When we're all enjoying the outstanding micro-brews, Kyle–a genuine scholar of the beer-making arts–gives us a lecture about chemistry and brewing that sets us up for a journey of discovery as each night he pours a different beer, brewed in a different way.
Then chef Chip Roberts, a noted California culinary expert and restaurateur, tells us what to expect for dinner. After an appetizer of artisan cheeses, followed by a second starter of roasted pepper (by blow torch no less), Chip announces the entree will be broiled salmon. Kyle suggests Big Sky's All Souls Ale as an accompaniment. We all sit back in anticipation. This is life on the river: sitting comfortably with a world class micro-brew, watching sunset on the river, waiting for dinner to be served by candle light on the shore of the Salmon. The feast that followed, in our al fresco dining room, under the Milky Way, rivalled any fine dining experience I can recall.
These exceptional creature comforts separate OARS' beer trip from other rafting excursions, and explains why once you've experienced it, you'll want to come back again and again. Each night Chip prepared something completely different from the last, always preceded by several appetizers. And each night Kyle would suggest a pairing with one of his brews for dinner, and introduce us to other specialty beers from Big Sky. I had gravitated to the Big Sky IPA, a beer very much in my favorite style, and the All Souls Ale, which is as complicated as a good wine, with dinner. In all we tried more than a dozen different brews from Big Sky, some of which were small batch specialty ales produced as an exercise in beer making. Midway, he pulled out a new specialty brew called, Power Wagon, a beer so powerful it became a verb: "Where was Connor last night?" "Oh, he got Power Wagoned."
All this self indulgence was set against the backdrop of Idaho's remote Lower Salmon, with high cliffs and rapids and endless sunshine. The guides took care of breakfast (which might be pancakes, or an omelet) and lunch (usually cold cuts and wraps or tortillas). Nobody lost any weight on this journey. I finished out the trip by taking a turn in lead guide Gena's dory, riding high in the stern with a great view of the white water to come. The classic dory river boat is a trademark of OARS, which is perhaps most famous for its storied Grand Canyon river trips. These boats take skill and experience to maneuver but offer up a wild ride very different than any of the rafts.
You know the trip is almost over when you reach to confluence with the Snake River, which will eventually flow into the Columbia. These are big, classic Western rivers, and it's a privilege to be able to experience them in such comfort. Like any meeting of two rivers, the confluence of the Salmon and the Snake has a spooky vibe to it. From here it's only 20 miles to the take out at Heller Bar, and I detected a subtle shift in mood among my fellow rafters. We had grown to know each other well on our four days on the river, and now that it was most definitely nearing the end, we were collectively a little subdued. The slack water was perfect for boning up on your SUP skills, or putting the finishing touches on your tan, but there was no denying our easy going adventure would soon end. It was time to start thinking about coming back.
Getting There
OARS is arguably America's premier river outfitter, offering an extensive menu of trips, from it's storied Grand Canyon river trips to those on other famous rivers such as the Tuolomne, the Yampa, the Salmon, the Green, as well as rivers in Alaska and Canada. Among its offerings are international destinations, such as Bhutan, Chile and Fiji. Whether it's rafting, hiking, kayaking, or specialty trips like the beer trip or its wine trips, the OARS catalog has something for everyone.Click here for more on the Lower Salmon craft beer trip. For more information on the dozens of beers Kyle offered up on the trip, see the Big Sky Brewery website.