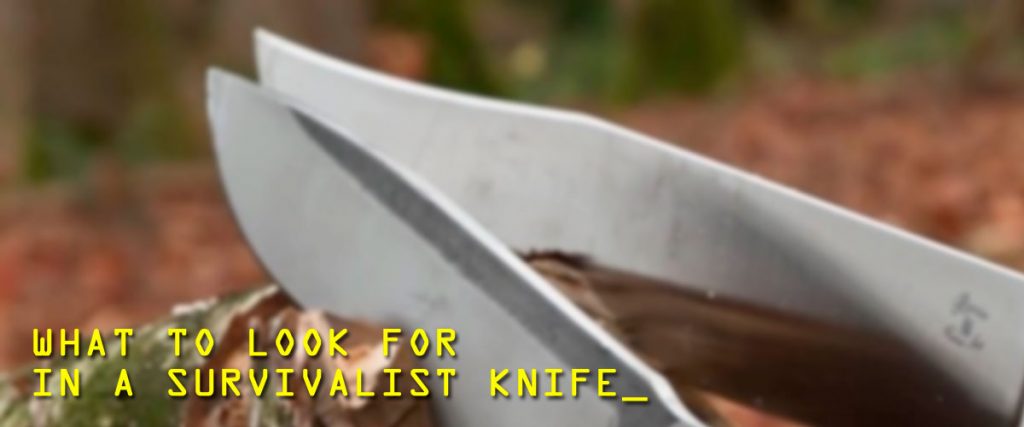 What to look for in a survival knife
If you're roughing it outdoors, you're probably a tough person, and you'll need a tough knife to keep with you. Here are some traits to consider when you're searching for that knife that's as tough as you are.
Full Tang
Because your survival knife must be versatile, it also needs to be durable. A full tang adds strength to the entire knife, and it ensures that the handle isn't going to snap off. That being said, you can infer a couple of things about a knife with a full tang. First, a knife with a full tang is going to have a fixed blade. In general, fixed blades can also take more abuse and are sturdier than folding knives. Second, a knife with a full tang will have a solid handle. Hollow handles can be beneficial in some situations, but most likely they will not have the durability you are looking for in a survival knife.
The knife pictured below has a full tang; you can see the end of the blade coming through the end of the handle.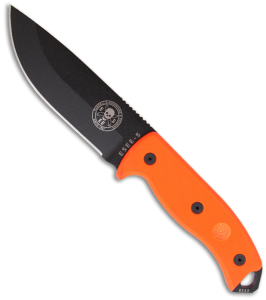 Blade Edge
For many reasons, a plain edge is going to be more beneficial than a serrated edge. A serrated edge can be useful for cutting through rope and similar materials, but you will have more need for chopping, slicing, digging, and prying out in the field. A plain edge will be more beneficial for these purposes. Serrated edges also typically require special equipment for sharpening, whereas plain-edged blades are much easier to sharpen. Many people prefer a 1095 Carbon blade because it also makes the blade easier to sharpen. Additionally, a single edge is really all you need for a survival knife.
The knife pictured below features a plain edge.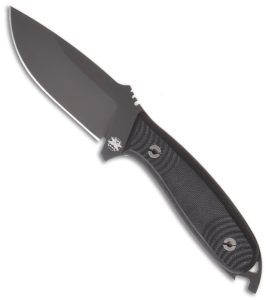 Blade Shape
It is important that every aspect of your survival knife is strong—even the shape of the blade. For this reason, you will want to stay away from blades with narrow points; these will be weaker and more prone to breaking than wider tips. A popular blade shape for survival knives is the drop point. Its wide tip adds strength to the blade, and it also has sufficient belly for slicing. However, some prefer the clip point, which has a narrower tip. Although the clip point's narrower tip makes the blade a little weaker than a drop point,  it also is good for piercing and stabbing. The clip point also has a good belly, like the drop point. Both of these shapes have their benefits and drawbacks for different situations.
The knife below has a clip point blade.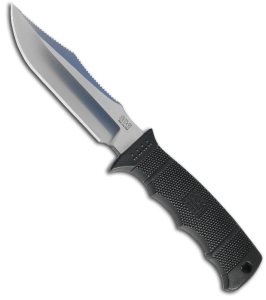 Blade Size
It is important that your knife is big enough to perform heavier tasks, but you also want it to be able to do more detailed work, too. Opinions vary in terms of how big a survival knife should be, but a knife that has a blade between four to six inches long is a pretty good length.
The knife below has a blade that is 4.84 inches in length—a good length for a survival knife.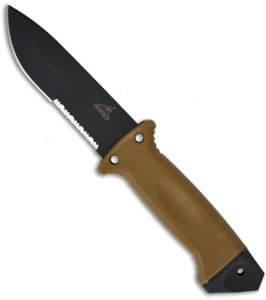 Handle
The handle on your survival knife  needs to be comfortable and have good gripping. As mentioned earlier, you should choose a knife that has a solid handle. Another feature that can be beneficial is a blunt, flat-edged handle, which can be used for hammering. Rounded handles make this type of work difficult. A lanyard hole is a feature present in many survival knives, and it is something many utilize.
The knife pictured below has a flat handle that could be useful for light hammering chores.