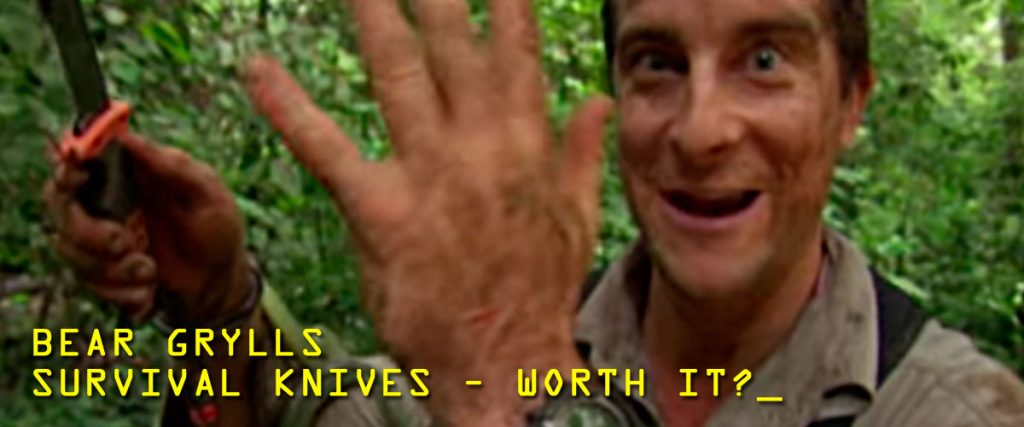 Bear Grylls Survival Knives – Worth It?
Bear Grylls is a well known figure in the world of survival no matter how you look at it, or how you feel about it. He has the survival street cred; he served three years in the British Special Forces (21 SAS), until he broke his back in three places in a parachuting accident in Africa. He has climbed Mt. Everest. Not too long ago, this rugged adventurer decided to endorse his own line of survival products. He was approached by several knife companies, and Bear decided to go with Gerber Knives.
Today we are going to take a look at these knives to see what all the hype is about. We will start with the most popular items in his line.
Gerber Bear Grylls Ultimate Knife – Survival Fixed Blade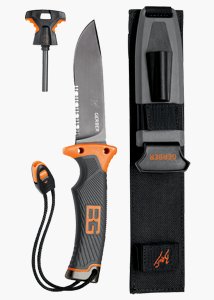 Features:
Weatherproof survival guide
In sheath sharpener
Fire striker on blade with magnesium rod in sheath
Lanyard cord with emergency whistle
Hammer / pommel
Full tang combo blade with a textured TacHide handle
Looking closely at this knife, you might think it is another version of the Gerber LMF II. The knives are similar, but the differences are uncanny. This knife comes with all the bells and whistles (literally a whistle). The blade is high carbon steel that I have heard some horror stories about. Unfortunately the blade goes dull extremely fast because of the sheath. Normally this wouldn't happen with a sheath. My favorite feature of the blade is the fire striker notch on the spine of the blade. Its downfall is that it does not seem to work half as well while wet. The handle, however, feels really good in your hand and ensures a solid grip whether wet or dry. I find the whistle to be a little weak and not very loud. As for the pommel on the bottom, it is solid and is good to hammer away at whatever you need to hammer. My favorite feature of this knife is the two holes on the top of the handle. Those holes can be used to mount the knife to a large stick, turning this knife into a spear. For the price, I would say this knife is a decent buy. It's really not very expensive. Like they say, when in a survival situation, any survival knife is the best survival knife.
Next, let's take a look at the Gerber Bear Grylls Folding Sheath Knife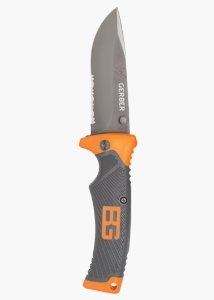 Features:
High carbon steel combo blade
Nylon sheath
Thumb studs
TacHide handle
This manual folding knife has some pretty impressive qualities. The blade locks up really solid and rarely has any blade play. Many people seem to prefer this knife to any of the other knives in the Bear Grylls line up. The handle has a nice feel to it, and it is made out of TacHide rubber that provides a lot of grip. Not only does this knife operate smoothly, and for the price you really can't go wrong.
The only flaw that I have found in this knife is the finish on the blade does not stick very well. It comes off with very little use.
The Gerber Bear Grylls Parang Survival Knife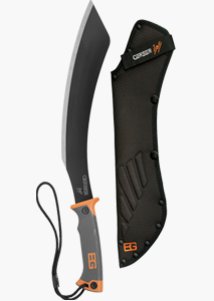 Features:
13.5″ full tang black blade
Bear's Priorities of Survival pocket guide
Wrist lanyard
Ergonomic textured rubber grip
Military-grade sheath
My first look at this machete was that it was a very cool style. It looks like a modern version of the traditional jungle tribesmen's machete. Its heavy weight build makes clearing branches or vines a simple task. The blade is angled to help you clear out brush and/or limbs without any struggle. It is very well balanced and had a very nice grip to it. The overall weight of this machete is 19.4 ounces.
Overall, when considering these three knives, there are several pros and cons. My favorite perk about these knives is the price. They are all really fairly priced when considering you could easily spend hundreds on a knife. It is possible to own all three of these knives for a low price of about $120. My least favorite thing about these is that they don't feel as solid as other name brand knives made by Gerber. If you are looking for something to put into a survival kit on a budget, then these Bear Grylls Survival Series Knives are a safe bet. Just remember, you always get what you pay for.
And here Bear explains the series in his own words: