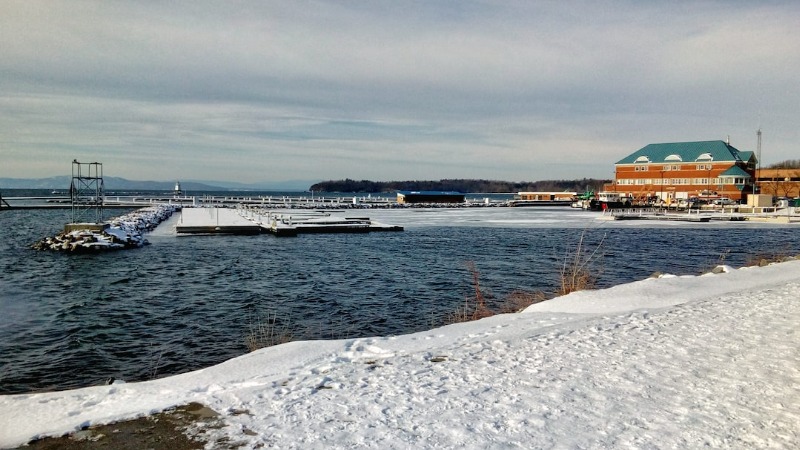 Northeast US Road Trip: Vermont
Vermont Road Trip
We only had another week left on summer vacation, so we decided to do one of America's favourite pastimes before we leave – camping! The next few posts will cover our little camping road trip up into New England and beyond into Quebec, Canada.
We left the Hamptons on the early morning train, as we had sold our trusty van Rhonda a couple of weeks previously, and so had to rent a car for this road trip. We had searched the net for good deals on car rentals on Long Island but none were to be found – the cheapest we could find was $35/day at JFK. Eventually we found a Hertz rental in Scarsdale, north of NYC for $27/day – we're always looking for a saving when we are travelling on a budget!
Scarsdale
So we took the train into Penn Station, caught the subway to Grand Central, and then caught another train to Scarsdale. All with our big heavy backpacks and numerous other bags. Ugh. Finally we got there and found the Hertz agent after walking past it a couple of times – with good reason, the agent was inside a gas station with a miniature sign outside! But soon enough we were given our little white Chevy Sonic (nicknamed Daisy) and we were off!
Our first stop was Wal-Mart for some camping gear. Seeing as we were on a tight budget for this trip we decided to buy some cheap camping gear so we could stay in camping grounds rather than hotels each night. We got a tent for $40, a polystyrene cooler for $7, some plastic plates and utensils, some sleeping bags for $40 each (we'll keep these for future Canadian adventures), and an air mattress for $20. America is awesome – there's no way you'd be able to get all that stuff so cheaply anywhere else! Unfortunately Wal-Mart didn't have a cheap cooker or air mattress pump so we thought we would get that further along the road that day.
Then we hit the road – we had booked a tent site in Manchester, Vermont. Manchester is quite a way north of Scarsdale so we were driving for a few hours! Driving through Vermont is so pretty – we were often astonished at the sheer amount of trees (I know that sounds a bit silly but there are just so many! In New Zealand we have a lot of forests but much of the land alongside the main roads is farmed, so you have to really get off the beaten track to see such large tracts of forest – whereas in Vermont it's all along the main highways). It really does deserve its nickname of the Green Mountain State.
Manchester, VT
We arrived in the lovely town of Manchester in the late afternoon, and set upon the few outdoors shops in the town in search of a cooker and pump. We found a cooker, a nice little fold up hiking one that screws onto a small gas bottle (we'll take this with us too) but alas, no air mattress pump! Uh oh…
So we arrived at Dorset RV Park a few miles out of Manchester, assuming that someone there would have a pump. But no, they were all in RVs of course! Not a tent or an air mattress to be seen. Fortunately being the jack of all trades that he is, Shaun came up with a solution to pump up the mattress without having to bust our lungs – he cut the bottom off a water bottle, and we held the cut end up to the air conditioning vent in the car and used the top of the bottle to go into the mattress valve – it totally worked! That's kiwi ingenuity for you! So a comfy nights sleep was had. Apart from being a bit scared about bears.
Mt Equinox
The next day, we grabbed a coffee in Manchester and drove up nearby Mt Equinox (after paying a painful $20 fee to drive up the mountain!). The view was pretty great, although some low cloud made the photos a bit crappy. Apparently on a clear day you can see five states! We spent the rest of the day at Emerald Lake State Park, also only a couple of miles from Manchester – the park was great, there was a nice beach, a lovely lake, and some good walking trails. We even saw a beaver dam! Rather exciting for a river nut like me.
Another night was spent in the campground at Dorset and the next morning we headed off towards Canada. We stopped in Vermont's biggest city, Burlington, and tried some great beers at the Magic Hat Brewing Company. There happened to be a massive farmers market in the centre of Burlington where we grabbed some great eats – a massive pretzel covered in seeds, a yummy burger and a hot dog – all made from local products. Burlington is a fun city – it has a great youthful vibe due to the University of Vermont being situated there. We wished we could've spent more time there, but we had to get to Canada! So we kept on driving north towards the border, and crossed over into Canada.