Gerber Folding Knife Reviews
Gerber makes some excellent folding knives. Many of these are used by military personnel as well as law enforcement officers all around the world. These are some of the best selling and most popular folding knives manufactured by Gerber. They also have an excellent survival knife in the fixed blade Gerber LMF II you may want to check out.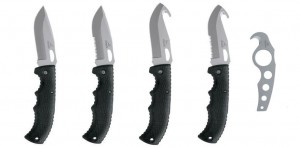 The Gerber Gator II gets it's name from the simulated alligator skin on the handle of the knife. This knife is sold in two different styles, each available in a plain or partially serrated blade. The standard Gerber Gator II is a lock back knife with a drop point style blade.
The Gerber Gator II with the Gut Hook style blade also comes in a lock back design. Both these knives have a strategically placed thumb hole that allows for quick effortless opening of the stainless steel blade.
There is one other configuration in which you can purchase this knife. That is the standard Gerber Gator II with a separate E-Z gut hook knife. this is a great option for the hunter that wants an everyday folder plus the option of using the gut hook when needed.
One more important thing to keep in mind when shopping for Gerber Gator Knives. The Gator has been an excellent seller for Gerber and they have several different styles of this knife. The main difference between the Gator I and the Gator II is the thumb hole for opening the blade. The Gator I doesn't have it, remember that when you're ordering your knife because I've seen dealers advertising knives with the wrong picture.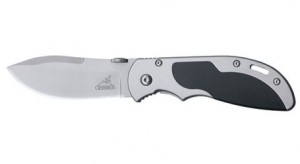 The Gerber Game Pro is a knife designed by Rick Hinderer of Rick Hinderer Knives. He has designed a couple of knives for Gerber and came up with a different frame lock design, which is a feature on this knife, that he calls the "lockbar stabilizer".
This is a drop point style knife, which makes it excellent for skinning game. The size of this knife is more suited for smaller game. In a survival situation you would probably be going for smaller game anyway so this is perfect as an all around carry or bug out bag knife. The length is a hair over 7″ but a little over 4″ of that is handle.
The blade is made from High Carbon Steel and the handle is stainless steel with Softgrip inserts. It also has a thumb stud for quick one-handed opening. This knife has been discontinued.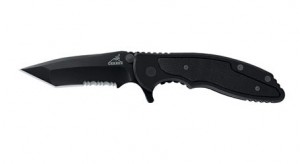 Another great knife designed by Rick Hinderer. The Gerber Torch II Tanto. This knife comes with a "finger flip" design which means you can open the blade lightning fast. Just push down on the finger flip while you flick the blade open. It's that easy. The "finger flip" does double duty as a finger guard as well.
The blade is made from 440A stainless steel and the handle is stainless steel with machined G10 inserts. G10 is basically a fiberglass laminate common in knife handles, it is lightweight and very strong. Overall length is 8.1″, the blade is 3.5″ It is a lock back knife using Rick Hinderer's "Lockbar Stabilizer" design.
The only drawback to this knife would be sharpening it. The Tanto blade has to be sharpened from two different angles and the serrated sections would require special sharpening stones. Keep this in mind before purchasing it.
Gerber Torch II Tanto G-10 Black Serrated Edge Knife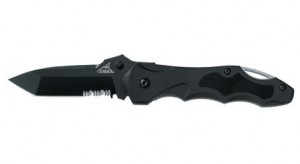 If you like exotic looking Tanto knives then the Kiowa (named after the Kiowa helicopter manufactured by Bell Helicopters) is the knife for you. I really like the look of this knife and I haven't found many complaints on it's function. The one thing I did find out about it is that, with use, the paint can come off the handle. Although the blade is anodized it appears that the handle is not.
It has a partially serrated tanto blade and the locking mechanism is a liner lock. It is 7.4″ long and is made of High Carbon Stainless and features one-handed opening.