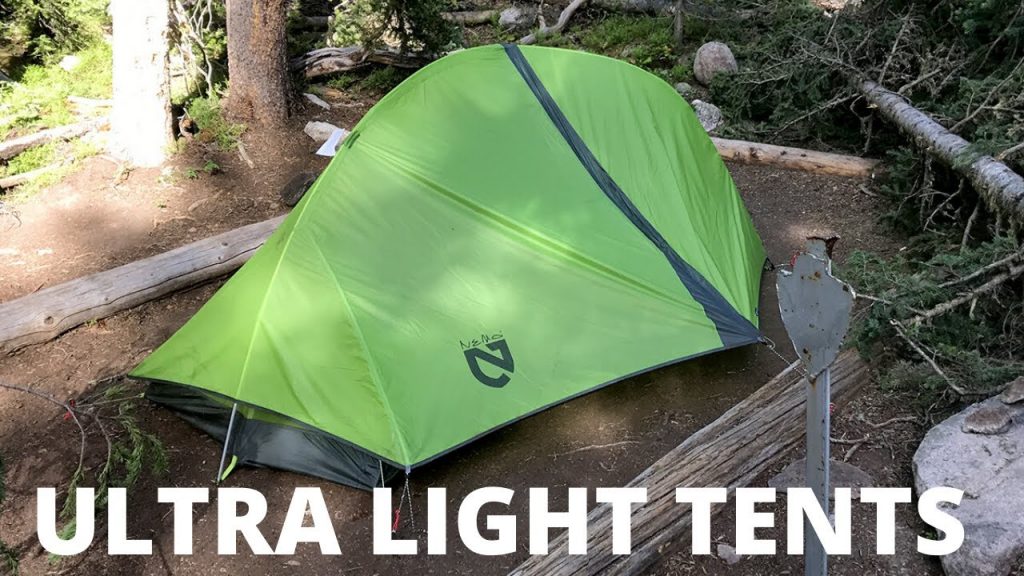 Best Backpacking Tents
One of the best ways to get out of the fray and commune with nature is a backpacking trip. With your food, clothes, and bed all strapped to your back, not only are you enjoying nature during the day but throughout the night as well! Sleeping outdoors, even for a night or two does wonder for the spirit.
With a surge in backpacking in recent years, many people are trying it out. So with that in mind, we've made a list of the best packing tents available on the market today
The Best Backpacking Tents
With all of that being said, it is important to be prepared to brave the elements. If you want to avoid wind, rain, and pesky nighttime creatures while you are sleeping, you are going to need to bring a tent with you for shelter.
Backpacking tents are similar to standard, family tents, with the added benefit of being light, compact, and easy to set up. Just a few extra ounces or pounds in your pack can be the difference between suffering the elements and feeling safe. If you are planning a backpacking trip, make sure you have one of the following best backpacking tents with you!
This tent is designed for one person. So if you are taking a solo trek, or just want to maintain your own space in a larger group, this is a great option for you. When packed, it measures only 18" x 4" x 4", and weighs just 3lbs. It consists of two-loop poles that create a roof over your head and your feet, and with 14 ground stakes, your tent is bound to stay in place throughout the night.
The tent itself consists of a ground tarp and a mesh roof, which can be used for warm-weather camping. But it also comes with a detachable rain guard that can be placed over the mesh and is great for cold or rainy weather. When setting up, it measures 38" x 28" x 90", which is pretty spacious for one camper. One reviewer noted that it is actually enough space to fit her gear in the tent with her for safekeeping throughout the night. This tent comes in four colors and is a great starter tent for your first backpacking trip.
Have you ever owned or set up a tent that requires to you thread the poles through a narrow little fabric passageway? It can be infuriating. This tent solves that problem for you by offering exterior pole clips that snap directly onto the pole.
To set it up, you first set up your two cross poles, then lay your tent beneath it, and lift the fabric up to snap it onto the support poles. It is super easy. This tent features a ton of other comfort features as well. The roof is vented for airflow and comes with a detachable rainfly that creates a little door in front of your doorway. This feature is a great way to avoid getting wet boots all over the inside of your home away from home.
This is one of the few best backpacking tents to utilize space as it even has a gear loft in the roof. You can rest easy knowing that your belongings are safe inside your tent and are suspended right above your head. It weighs only 3 lbs 8 oz and is a fantastic and spacious tent to bring with you on your backpacking trip.
If you are backpacking with a significant other, your family, or even friends you are close with, you may want to opt for a larger tent that you all take turns carrying. This tunnel tent can fit three people sleeping head-to-foot, and still only weighs 6 lbs!
It consists of two looping poles that support the tent via exterior pole clips and has two large doors on either side for easy access and ventilation. The low-to-the-ground design is safe and stable in windy environments, and when it is packed it measures 8" x 18". This is one of the best backpacking tents that is still light enough for a group.
If you are backpacking in a group, you can have one person hold this tent, and another hold the cookware or sleeping bags. Sharing is caring. This cozy tent will feel like a safe and comfortable bedroom for you and your travel companions.
If you are traveling with your significant other or a close friend, this is a great option for you – especially if you will be backpacking in winter. The tent comes with a detachable snow-skirt making it one of the best backpacking tents for versatility. With the added insulation of another person, you are sure to keep warm!
If you are hiking in warmer climates, it can work for you too. It has two large doors and a lot of mesh for ventilation. It is a simple dome shape and is easy to set up. This tent weighs only 6 lbs. If you don't mind carrying it alone, it can work for a solo trip as well. The extra space provides room for your gear. It comes in four fun colors and is made of a waterproof material that also provides UV protection.
If you are really looking to save space and weight in your pack, this compact survival tent (with an eye-grabbing name) is a great option for you. When it is folded up and stored, the entire thing fits in the palm of your hand. It also only weighs a mere 9 oz, making it one of the best backpacking tents for being lightweight.
The tent doesn't come with any poles or stakes. Instead, it is suspended by a paracord that you are expected to string between two trees. The tent is triangular in shape, but has a built-in floor and back, making it a tube tent.
It can fit two people and is made of Heatflex Mylar. That means that in cold weather, the interior of the tent will reflect your body heat. In hot weather, you can turn the tent inside out and the tent will reflect sunlight and heat away. It is waterproof, windproof, and reusable. If you are planning a minimalist trip, this is the tent for you.
These are our top picks in regards to the best backpacking tents available. As you can see, many are lightweight and compact. They are all a good investment. Grab your tent, sleeping bag, strap on your backpack, and hit the trails!