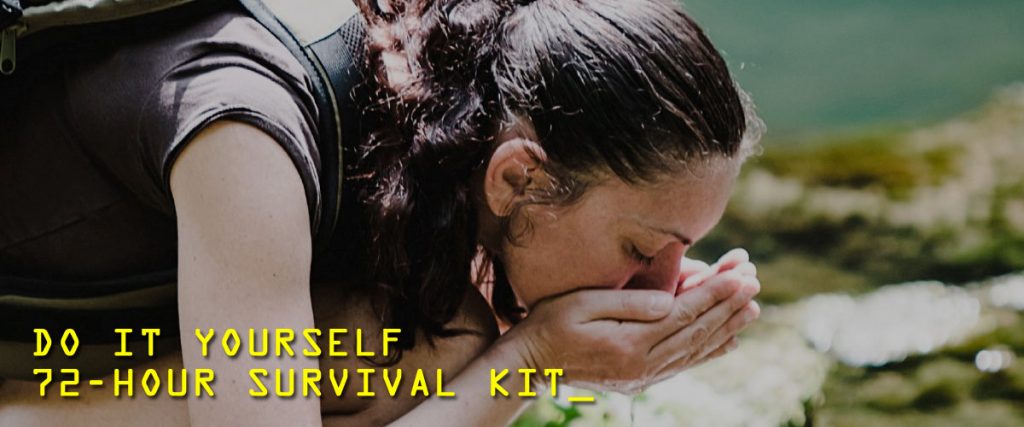 Do It Yourself 72-hour Survival Kit
When a disaster strikes, the Federal Emergency Management Agency (FEMA) says you should expect to be on your own for at least 72 hours. This 72-hour window of time gives responders enough time to react to the situation and find you. It may take longer for disaster relief to reach you, and it's always smart to be as prepared as possible. However, remember that there is a limit to how much you can carry in a survival kit.
I am a big proponent of the K.I.S.S. (Keep it Simple Survival) system. There is a lot of information out there (on the web, in books) about what you to put in a 72-hour kit. This is a list of what I keep in my kit, and I think that it will be a great start for you as well.
A 72-hour Kit should contain:
1 gallon of water per day (per person) – Water is essential to life and without it you won't survive.
Water Bottle (per person) – I prefer a stainless steel water bottle instead of plastic, something like this:

Water Purifier or filtration system – I like to carry an easy to use filter and some tablets. You can use bleach or iodine tablets.

3 day supply of food based on a 2,000 calorie diet (per person) – When you are gathering your food supply remember that there will probably not be any way for you to cook the food.
Eating Utensils – A mess kit works well, there are lots of options out there.

First Aid Kit – Should include
A storage case – I use a hard, plastic waterproof case like this:
A booklet of first aid instructions
Medication – prescription and over the counter (acetaminophen, ibuprofen)
Sunscreen
Chapstick
Super Glue
Insect Repellent
Gloves
Q-tips
Scissors
A blood clotting agent (like quick clot)
Emergency blanket
Lightstick
Bandages of various sizes
Moleskin
Neosporin
Gauze
Medical tape
Surgical pad
There are lots of other good things that you can also put in your first aid kit that will depend on your personal/family situation:
Feminine Hygiene Products
Allergy Medication
Weather appropriate clothing – In the winter, make sure that you have extra clothing for the cold.
Flashlight with working batteries; even better is a flashlight with a hand-crank or solar powered charger. Mine also has a radio included.
Whistle – this will allow you to signal for help
Cash
Sewing Kit- Needle and thread
Compass
Firestarter – I like magnesium rod firestarters, but matches work well too.
Dust mask
Towlette
Toilet Paper
Hand Wipes
Garbage Bags
Survival Knife (per person) – A lot of people will argue about what makes the best survival knife. I won't.
Wrench, pliers, or a multitool
Maps
Cell Phone with hand crank charger – The one pictured has a hand crank, and a solar panel. It also has a radio and a flashlight built in.
Paracord or rope – I prefer paracord because it can be broken down for so many other uses.
Duct Tape
Gloves
Radio, ideally with a hand-crank. Here is another picture of a different one:
Signaling Equipment – If you prefer flares to whistles
Tent large enough to fit your family
Make sure that you go through the food and water in the kit and rotate it every 6 months. Also check your medications to make sure they haven't expired.