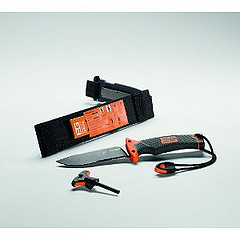 Choosing The Best Gerber Survival Knife
Survival knives have been around in one form or another since the dawn of man. From sharp rocks to man made steels and polymers knives have come a long way. The survival knives being manufactured today are without a doubt the best knives ever built in history, but are any of them being built by Gerber?
There are several knives produced by Gerber that fall into the survival category. I am going to focus on a few of the fixed blade knives currently available on the market. I will show you what's out there, point out some things to watch out for, and give you some insight on how these knives have performed.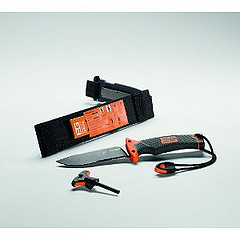 The first knife I'd like to tell you about is the brand new Bear Grylls Ultimate Survival Knife. This knife was out of stock everywhere I could find it listed when it first hit the market and it is definitely a popular knife. It had a rough start with quality issues when if first came out but Gerber went back and got those issues fixed so now it a very usable knife. I think there are some out there that just don't like Bear Grylls and knocking his products seems to be in fashion at the moment.
I personally don't have a problem with Bear. I know he's not from the U.S. and he probably doesn't care that the knife isn't made here. However, I probably would have done a more thorough job of checking out the product that was going to carry my initials. No, I don't own the knife, (I do own the Gerber LMF II) I did get the chance to check one out pretty well, and I have done some extensive research on this knife.
I did read a review of a guy who was batoning a small limb and the plastic handle broke and the metal pommel went flying. That being said, it was one of the first versions of this knife and that issue has definitely been resolved. However, I don't recommend buying this knife used unless you do some research to be sure you don't get stuck with one of the first versions of this knife. The rumor is you can tell by the size of the orange stripe at the base of the handle but I don't know that I would trust that information.
Since this knife is "feature rich" I'm going to list them for you here, you can also pick up the Bear Grylls Ultimate Survival Knife Here.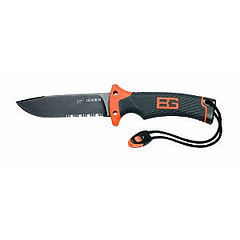 Knife Features:
* 1/2 Serrated High Carbon Stainless Steel Drop Point Blade – Ideal for edge retention and cutting rope
* Full Tang Blade Construction- For maximum durability
* Ergonomic Textured Rubber Grip – Maximizes comfort and reduces slippage
* Stainless Steel Pommel – At base of handle for hammering
* Emergency Whistle – Integrated into lanyard cord
Sheath Features:
* Fire Starter – Ferrocerium rod locks into sheath, striker notch incorporated into back of knife blade
* Nylon Sheath – Lightweight, military-grade, mildew resistant
* Land to air rescue instructions
* Diamond Sharpener – Integrated into sheath for on-the-go sharpening
* Priorities of Survival – Pocket guide outlining survival essentials
Tech Specs:
* Overall Length: 10-Inch
* Blade Length: 4.75-Inch
* Weight: 11.2-Ounce alone, 14.72-Ounce with sheath
If you would like a different option to the Bear Grylls Ultimate Survival Knife, you could use a Gerber LMF II or a Gerber Prodigy and the whistle or signalling mirror A-Poc writes about.

Right now at the top of the food chain for a Gerber Survival Knife, in my opinion, is the Gerber LMF II Survival Knife. This knife has proven itself in battle and is gaining a reputation as being one of the toughest knives on the market today. This top rated survival knife comes in three different versions. The ASEK, the Survival, and the Infantry. The differences in these versions is strictly in color and accessories, the knife itself being the same in all three flavors. I'm going to break these down for you so you can see the differences. You can also read more about these in my blog post here.
The Gerber LMF II ASEK only comes in foliage green, it is infra red (IR) resistant and comes with a sheath, 2 leg straps, and a safety knife w/sheath. However you must have military credentials to buy it.
The Gerber LMF II Survival only comes in camel brown. It is NOT infra red resistant and comes with the exact same accessories as the ASEK but in the camel brown color.
The Gerber LMF II Infantry comes in (IR) resistant Foliage GreenCamel Brown, and Black. This knife only comes with a sheath and one leg strap.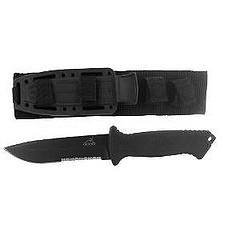 Next up is the Gerber Prodigy. This knife is like the little brother of the LMF II.  There's lots of information out there about this knife so I'm just going to cut to the chase and tell you what I DON'T like about it.  This knife seems to be blade heavy, unlike the LMF II which is more balanced. I'm not a fan of the sheath on this knife, the LMF II sheath is MUCH better, but I do like the fact that it is MOLLE compatible.  I haven't decided if I like the overmolded grip yet, it seems to have a thin coating of rubber over a hard plastic handle.  I haven't had a problem with this yet (I don't use this knife much) but I've had a knife like it and the handle eventually peeled on it.  Granted it was a cheap knife but for me it's a potential problem on the Prodigy.
Now, with all that being said, this is still a great knife.  Most people want a light hiking knife that could get them out of any trouble they happen to stumble upon.  This knife is perfect in that application.  It is well made, it is a good solid fixed blade knife, and it also gets great reviews.
Gerber is a great company that makes excellent knives. I personally wish all of their knives were made here in the USA but global economics being what they are that's just not possible. To be able to compete they need to be able to appeal to all economic classes of people.  Consumers who live outside the U.S. are only concerned with the quality of the knife they buy not where it's made. That being said, several of Gerber's knives ARE made right here in the good ole U.S. of A. which means they are keeping lots of people working. For the money I think Gerber knives are an excellent value. You can spend more on a knife, and if you're a hard core survivalist you probably should, but for the average person building a bug out bag or getting a camping knife you can't go wrong with a Gerber fixed blade.