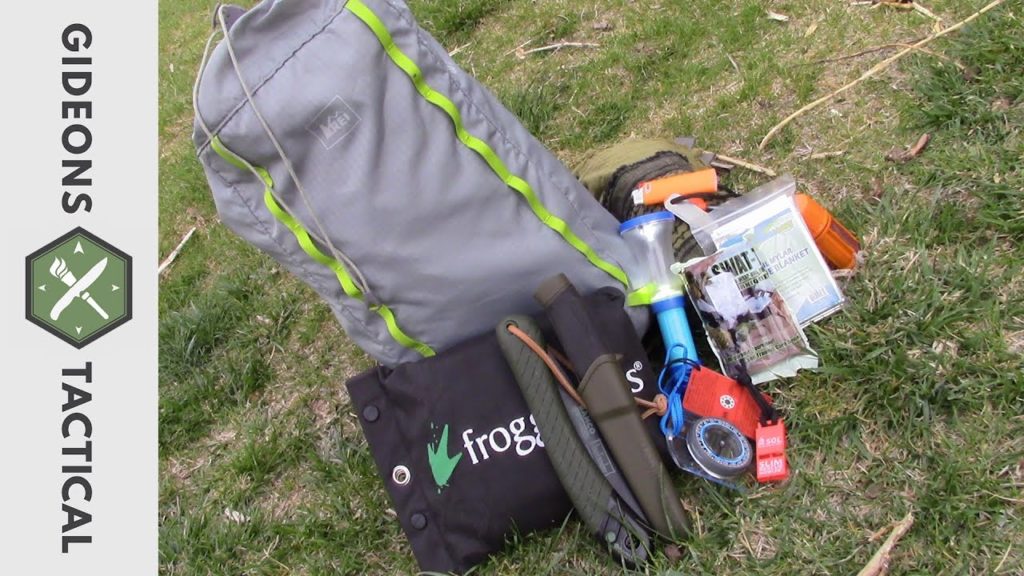 Bug Out on a Budget
Prepping on a budget isn't hard to do when you know why you are prepping. Are you getting ready for an EMP? Maybe you are expecting a nationwide economic breakdown. You could even be getting ready for the zombie apocalypse (which if you read my blog very often, you know I think we are already living amongst zombies). The point is, figure out what you need to be prepping for, and make a plan.
Make a Preparedness Plan
Even if you're a prepper with a limited budget, every prepper needs a good plan. Actually, every prepper needs multiple plans — you have to be ready for any SHTF scenario, and a single plan will not cover every scenario. The question to answer is, "What are you prepping for?" Once this question has been answered, your plan will start to form itself, and you will have a clearer picture of what you need to do to be prepared.
Different situations will require different courses of action. If you are on low ground, and you are preparing for a massive flood, you will need to think about a bug-out plan for your family. However, if you live on high-ground somewhere, flooding is probably not an issue. Instead, you may be getting ready for an EMP (Electromagnetic Pulse) strike. If that is the case, you may decide that bugging-in is the best plan. Evaluate your danger, plan accordingly, and be prepared!
Your plan should also take into consideration the gear that you will need compared to the amount of money you have to spend on preps each month. Be sure you are budgeting your money properly and saving as much as you can on monthly bills and at the grocery store. After paying bills and feeding your savings account, there should be at least a little leftover for buying preps.
Prioritize Your Preparedness Checklist
Prioritizing is something we typically do subconsciously. Our brains evaluate what needs to be done first, and our bodies respond. When it comes to being prepared for SHTF, it is important to know the core areas of preparedness. There is no need to just go off and buy things all willy-nilly like, right? Make yourself a checklist based on these core areas — in order of priority.
Shelter
Fire
Water
Food
First Aid
Sanitation
Security
The Core Areas of Preparedness
Why do I rank the core areas in this particular order? Well, some of it is based on the survival rule of three. The rest are what I deem the most important areas thereafter. If you asked a dozen people what the core areas of preparedness are, you might find a dozen different lists. Most if not all of them would have a good deal of overlap, but there would be a few inconsistencies. This is just my list. You need to determine if it is right for you, or if something else works better.
Shelter – This one is first because you will need a place to rest that is out of the weather (wind, rain, sun, snow, etc). This is the tent I have for my family bug-out gear, but I started with this large tarp. If you are only prepping for yourself, that tarp may be enough, or maybe you'd rather have a tent-like this one — lightweight, and roomy enough for you to have your gear inside with you and still be comfortable.
Fire – You will need fire to stay warm in the cold, purify your water, cook any food that may need it, and for a general sense of security — the Boogeyman doesn't like fire, you know? The most logical things to carry are matches and lighters. You can actually get a bulk amount of strike-anywhere matches and plastic cigarette lighters, break them down into smaller quantities and put them into pill bottle survival kits to carry in your 72-hour bag. Don't forget about things like Ferro rods and magnesium bars to add to your emergency gear, as well.
Water – You can only last three days without water. Even before that, your body starts going into a state of dehydration. Add a stainless steel water bottle to your emergency gear so that you can collect water, purify it, and carry it with you if you move. I actually have a Kelly Kettle in my gear. It's a little bulky, but you can boil water super fast with it. It also acts as a rocket stove, so there are multiple uses for one item, and I love multitaskers. If you want to carry water with you from the start, you can pack some of these 4-ounce emergency water packs — just be sure to put them inside something that will keep them from getting busted. Also, if you haven't seen the Lifestraw, you should really check it out, too!
Food – The Survival Rule of Three says you can actually go without food for three weeks, but that is under best-case conditions — if you are in a true SHTF scenario, you would not last quite that long. You can make your own MREs, or you could just carry a few of these high-calorie food ration bars. If the emergency situation forces you to bug-out for longer than a few days, it would be a good idea to learn to set snares and fish. For that, you will need some snare lines and fishing equipment. Anybody can bait a fishing hook and throw it into the water, but not everybody has the knowledge to set snares and traps. You will need to read a book like "Trapper's Bible" to know how to set snares and trap small game.
First-Aid – This one should be fairly self-explanatory — accidents happen, especially when you are suffering from dehydration, hunger pangs, and hypothermia. A minor injury could turn into a major trauma fast in the apocalypse. A fully-stocked, proper emergency responder's kit would be ideal, but it may be a bit bulky. You could simply put together your own first aid kit if you would rather. If nothing else, pick up one of these IFAKs (Individual First Aid Kits) to attach to your bug-out bag.
Sanitation – Everybody poops. There, I said it — not that you didn't already know. The reality is, unless you are planning to dig a cat hole or a full-fledged latrine pit, you will need somewhere to do your business. I would probably recommend a Luggable Loo — or if you do decide you want an actual latrine, use a military-style entrenching tool to dig your hole, then put this foldable portable toilet over the hole. You can even set up a privacy tent around your new outhouse if you want. So long as you "don't crap where you eat", so to speak.
Security – Whether you are worried about marauders or wild animals, you need some sort of security. The "Trapper's Bible" I mentioned earlier actually has information in it concerning camp alarms and path guards. You need to keep a full tang survival knife with you, as well — and not just to use as a weapon.
Buying Your Gear on a Tight Budget
Now that you know what you are preparing for, have made your plan, and have a checklist, you can actually start buying your gear. This is where the prioritization and budgeting come into play.
Set aside a certain amount of money each month with which to buy your gear — that amount will be solely dependent on how much you make, how much your monthly bills are, and any other financial factors you need to think about. If you haven't started learning to budget your money yet, I would suggest you read my article on Budgeting 101. If you already know how to budget, you are on your way.
Start with the most important gear first — the things you think you couldn't live without in a TEOTWAWKI (the end of the world as we know it) scenario. Each month, either buy some of that gear or if it costs too much for one month, save that month's money until you have enough to buy the gear you need. I would stress the fact that you need to get the necessities first. Just because you can afford something cheaper that is further down the priority checklist, doesn't mean you should just go ahead and get it. Remember, you are prepping for a dire emergency, so get what you think you will need the most and get it first.
Speaking of buying cheap things, I need to make something perfectly clear. While the dollar store can provide you with some very useful preps, there is no substitution for quality. Likewise, just because you don't have much money at one time to spend on an SK-5 Blackbird doesn't mean you should settle for some cheap piece of crap knife like this one that is probably very easy to break. That is the last thing you need — some piece of junk knife snapping on you when you need it the most. Not to mention, it will probably injure you in the process.
The point here is, do your research, find what you need, and set your mind to getting it. If you have to save up for it, that's fine. It is much better to save for the good stuff than buy the crappy stuff and pray it works.
Stocking Your Home Preps on a Limited Budget
The same general concept goes for your home preps — the difference is the scale on which you need each item.
If you plan to bug-in, or you are simply preparing for some unforeseen natural disaster that will keep you in your home, you won't need to worry so much about shelter. That is pretty much covered, even if your house is just four walls and a roof.
As for fire, if you have a fireplace or a wood-burning stove, you are already where you need to be, too. Just be sure you have a decent chainsaw with which to cut plenty of firewood — or if you want to go low tech, a sturdy ax will work, too. If you aren't lucky enough to have either a fireplace or wood-burning stove, you might think about getting a kerosene heater, or at least some wool blankets to stave off the cold.
Water storage is much easier at home — you can store water in just about anything. If you have a good bit of shelf space, you can use these 7-gallon water jugs. This is probably the easiest thing to do if you want to keep water rotated — that is if you feel like water has an expiration date. Maybe you don't have a ton of shelf space, but you have plenty of room to stack things. You might use these stackable water bricks instead of the jugs. If you just want to store mass amounts of water the "easy way", you could just get some 55-gallon drums like these that are made of food-grade plastic. There are also these cool things that I just found out about a few months ago that go into the bathtub and can hold up to 100 gallons. The only thing about those tub reservoirs is you would need to know to fill one up before the city water supply gets contaminated or shut off. I'm personally aiming for the stackable water bricks.
Food storage is an area that can cross many platforms. With a pressure canner, a water bath canner, and some Mason jars, you can put up almost any kind of food. The problem is, there's a little bit of a science to canning food. Best to familiarize yourself with some Canning 101 information. You can also do a lot with a dehydrator and a vacuum sealer. If you are not confident in the kitchen enough yet to get your food preps started, you could just start with some emergency buckets of freeze-dried foods (which I would also recommend getting even if you are good with home food preservation). Freeze-dried foods have a longer shelf life than any other food storage method, anyway, so you will definitely want to invest in some.
First-aid won't be much different than it would be if you were bugging-out. You will have more room to stock more supplies, have them better organized, and be able to treat wounds much easier. I like having these plastic rolling 4-drawer carts for our medical supplies (actually, ours have 5 drawers). We have one for prescription medications, over the counter meds, and topical ointments and such. We have another that has things like gauze, medical tape, slings, splints, bandages, and other first-aid equipment in them. Every drawer is labeled so we can easily find what we're looking for — right now the labels are masking tape with Sharpie writing, but I really want one of these label makers to appease my OCD. Trust me, if I had one of those label makers, everything in my house would have a label.
Of course, if the water is still running, sanitation will be a breeze. However, if there is no water, you're back to square one with your waste products. This is where storing more water than you think you will need comes in handy, too. You will need showers and water to manually flush those accidental "oops, I forgot the water was off" bathroom trips that you will inevitably make. The good thing is, you can stock lots of toilet paper — just make sure you have ample shelf space to store it.
Finally, home security is a must whether you're in a SHTF or TEOTWAWKI situation, or if you're just locking your doors when you go to bed at night. I wrote a whole article on how to improve your home security, so I won't rehash all of that here, too.
How to Start Prepping on a Budget
The bottom line is this — anybody can be a prepper. You may need to budget and plan so you can get what you need, but you'll get there. Don't give up on your preparedness plan, be diligent and learn all you can learn. After all, knowledge is the most important survival tool, right?
If you have any tips on how to be a prepper on a budget, let me know!