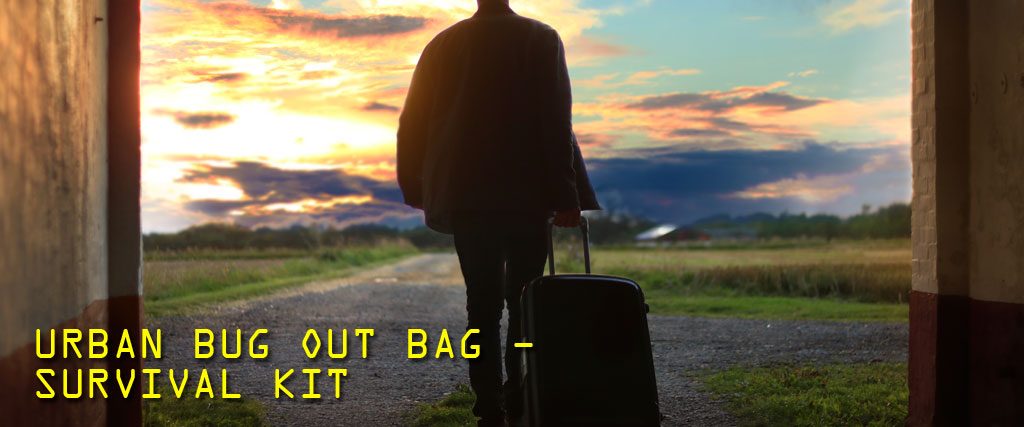 Urban Bug Out Bag – Survival Kit
This kit was designed to be as inconspicuous as possible. Others won't know that you have everything you need to survive, packed into one suitcase. With this survival kit, you won't stick out in a crowd and you won't draw attention to yourself.
This is a 2-person survival kit, designed to keep 2 people sustained for a minimum of 3 days. Extra food and tools have been provided to sustain you for even longer, should the need arise.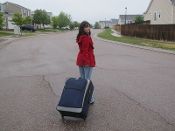 There are over 9 days worth of emergency food and 3 days worth of emergency water. A simple water purification system is also included. All items in the survival kit are new but you will need to remove packaging on some items to save room and to keep weight down.
All small or non-water resistant items will be placed in a zip lock bag or container of some sort to keep them dry and/or in order. I pack these bags like they were my own, you're not getting a cheap prefab kit.
This suitcase is packed full but everything fits inside the suitcase. There is enough room for you to add some small personal items and/or important paperwork. The suitcase weighs about 50 lbs but has rollers and extendable handle so you don't have to carry it. Simply drag it behind you.
To keep costs down, I included an inexpensive 2-person dome tent but you can opt for a higher quality tent can replace this tent. .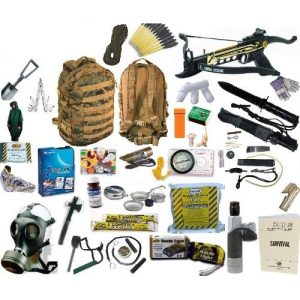 Step 1
1. 5 Piece Mess Kit – (Aluminum Fry Pan, Aluminum Sauce Pan, Detachable Aluminum Handle, Aluminum Pan cover/plate. 6 oz. Cup)
2. Coghlans Camp Heat – Use it to cook, or to keep warm.
3. Hobo Tool (Spoon, fork, knife, bottle opener, can opener, corkscrew)
4. Campers Knife (Knife, corkscrew, can opener, bottle opener, saw, scissors, screwdriver, screw driver)
5. Firestarter items (Cotton Balls & Vaseline, Spark-Lite Tinder, manila rope)
6. Waterproof match container and matches
7. Frontier Pro Water Filter – (Purifies 50 gallons of water – The unique filtration technology is the key to making a high capacity filter system so compact and light weight. Increased surface area, flow control vanes, and the addition of the replaceable pre-filter disks allows the Frontier Pro to handle even turbid water without choking up. The replaceable pre-filter disk removes larger water borne particles that would foul the micro-filter quickly. Because extra disks are included with the Frontier Pro, they can be replaced or even "doubled up" to improve the life of the filter. The Aquamira porous micro filter removes 99.9% of Cryptosporidium, Giardia.)
8. (x2) 3600 Calorie Mayday Emergency Food Bars
9. (x2) Boxes of waterproof matches
10. Waterproof Fire Sticks – (lights even when wet)
11. Emergency Fishing Kit – (all your basic fishing needs)
12. Magnesium Fire Starter – (All purpose fire starter is waterproof and fireproof in solid form)
13. (x2) BPA Free 1 Qt water canteens
14. FoodForLife Dehydrated food (20-year shelf life) 5 different flavors – 5 servers each
15. (x12) Emergency Water Packets
16. Sharpening Stone
17. Emergency Cook Stove
18. Platypus Soft Water Bottle – attaches to the Frontier Pro water bottle
Step 2
1. Map Compass
2. Folding Camp shovel with canvas bag
3. Emergency 2 Person Tube Tent
4. 10 Yards Duct Tape
5. Electrical Tape
6. 14 in 1 Pocket Tool w/ case (Pliers, Wire Cutter, Knife, Philips Screwdriver, Flathead, screwdriver, Saw, Bottle Opener…more)
7. FM 21-716 Army Survival Guide – (Department of the Army Field Manual. General introduction and individual or group survival orientation, navigation, finding water in all parts of the globe. How to obtain food start fire and much more. Very good quality illustrations. 288 Pages)
8. Survival Hatchet (Axe, hammer, pry bar combo)
9. (x2) Vinyl Ponchos
10. 9" Action Assisted Folding Knife w/ G-10 Handle – Knife features a 4 inch Drop-point, half serrated blade made of 1045 surgical steel. It is very strong, sharp, and durable. Has a 5 inch all black G-10 handle. Knife is 9 inches overall with a 4-inch blade.
11. Monocular (25x view) w/ case
12. Pelican MityLite 2340 w/ batteries
13. (x2) Leather Work gloves
14. (x5) Carabiners (various sizes. Not climbing grade) Use to attach items to your suitcase or to rope for various purposes)
15. Sewing Kit
16. 100' Paracord
17. Coghlans Camping Saw
18. 7" Survival Knife with Mag Firestarter
19. 5in1 Emergency Whistle
20. 7in1 Emergency Whistle
21. 100' Plastic Rope ¼ inch
22. Buck Knife w/ sheath – (This is a genuine high-quality Silver Creek Buck Knife – Safe, reliable and durable. This knife is designed with titanium coated, corrosion resistant blade, a rubberized anti-slip grip, a stainless steel safety guard and a serrated backbone for sawing. Blade length: 4 3/8″. Wt: 4.8 oz.
Step 3
1. Mini Cooler – Used to help organize your bag or keep food cool if you need.
2. (x6) Disposable Dust Masks
3. (x3) Pair Latex Gloves
4. (x2) Campers Toilet Paper
5. Wash Cloth and Hand Towel
6. Multi Compartment Canvas Case – Used to help organize your items. Shoulder strap included so you can take it out of your suitcase and put your most important items in it for quick access
7. (x5) Feminine Pads
8. (x5) Feminine Panty Liners
9. (x2) Emergency Rain Ponchos
10. 20 LED Flashlight with Strobe – batteries included
11. (x2) Bivvy Sacks – (emergency Mylar sleeping bags w/ carrying bag)
12. Pencil, Sharpie, Note Pad
13. (x2) Emergency Mylar Blankets
14. (x3) Emergency 6-hour Candles
15. Bar Soap
16. 50 Cotton Swabs
17. 299 Piece First Aid Kit – (Band-Aids, butterfly wound closures, scissors, tweezers, gauze, trauma pad, ibuprofen, aspirin, cleaning pads, antibiotic ointment, burn cream, first aid tape, cold compress, eye patch, moleskin, thermometer, finger splint, more)
18. (x2) Mayday Ready Light Flashlights – No Batteries required)
19. (x6) 12 Hour Chem Lightsticks
20. (x4) Hand Warmers
21. (x2) Tissue Packs
22. (x2) Foot Warmers – 2 per package
23. Sun Screen
24. Insect Repellent
25. (x2) Small Toothbrush and Toothpaste
26. Plastic Cup
27. Hand Sanitizer
Step 4
1. (x2) Fleece Blankets
2. (x2) Hard Case Pencil Boxes – ( To help organize your items and to help protect them)
3. (x2) 4A1 Biowar Gas Mask NBC
• Be prepared for those unforeseeable, unimaginable or unthinkable situations. The mask will protect you from dust, smoke from fires, airborne contamination or while your trouble-making neighbors are being tear gassed by the police. Should the unthinkable NBC attack occur, you can flee to safety while others are writhing and choking on the ground. The 4A1 Gas Mask has full Biowar and NBC protection.
• Universal Drinking Tube Included ( A water intake port, allowing you to hydrate without having to remove the mask and risk exposure)
• BIOWAR NBC 40mm FILTER Included
• 1 Size fits all ( The 4A1 is highly adjustable and 100% reliable once properly fitted with the 5 highly adjustable elastic straps)
4. 2-Person Dome Tent
5. Waterproof Pouch – ( Keep your electronics or documents dry and safe)
6. (x10) Coffee Filters
7. (x6) Folgers Coffee Singles
8. (x5) Tea Bags
9. Cream and Sugar
10. Hard Candy
11. Tootsie Roll Suckers
Approximate Cost: $750